Note: This is the first GoCoogs article for new Football Editor Chris McGehee. Welcome, Chris!

Can The Cougar Defense Stop The Rebuilt Sooners?
On September 1, the Cougars begin the Dana Holgorsen era at Oklahoma in Norman. It's the return game of the 2016 opener at NRG – the game that shot UH into the national conversation. Six Cougars that played in the game will go to Norman as seniors, five of whom should start.

Dana Holgerson makes his debut against a team he knows quite well. Holgorsen faced OU seven times while he was the head coach at West Virginia but lost each game. His defense held the Sooners under 44 points just once, a 16-7 loss at OU in 2013.

Holgorsen getting his feet wet against a likely top-5 team is markedly different from other UH coaches this century. Major Applewhite opened against Arizona, a team coming off a 3-9 season. Herman faced FCS Tennessee Tech while his predecessor Levine got Texas State in their first-ever FBS game. Sumlin faced FCS Southern while Dimel and Briles each opened their UH careers vs. Rice.


The Matchup
The OU offense was the most prolific in the country last year. The numbers look overwhelming when compared to a Cougar defense that was in the bottom 10-15 in most categories. It's not a pretty picture:
OU Offense Vs. UH Defense: A Comparison
| Statistic | OU Offensive Rank | UH Defensive Rank |
| --- | --- | --- |
| Total Yards | 1 | 126 |
| Rushing | 11 | 115 |
| Passing | 7 | 123 |
| First Downs | 3 | 128 |
| 3rd Down % | 4 | 120 |
| TDs By Unit | 2 | 123 |
| Passing TDs | 4 | 80 |
| Rushing TDs | 6 | 128 |
| Scoring | 1 | 118 |
| Red Zone | 8 | 123 |
| Yards Per Play | 1 | 111 |
| Yards Per Completion | 5 | 114 |
| Turnovers | 9 | 20 |
If you're looking for good news against the OU offense, here are 3 nuggets of hope:
Kyler Murray and four starting OL are gone from the 2018 team. Murray, of course, won the Heisman while the departed OL combined for 55 (out of a possible 56) starts at the two guard and tackle spots. That's a lot of quality production lost. That's three All-Big 12 first-team selections, including a consensus All-American, and a second-team left tackle.

New starting QB Jalen Hurts has won a lot of games but most of those were thanks to the Bama defense. Alabama gave up just 12.7 ppg in his 28 starts – 356 total points. To compare, OU gave up 350 points in their last 9 games. He's never had the burden put on him to win games and is unproven in this offense.

The Cougars were 26th in the country last year in yards per carry on passing downs. Hey, we're trying. According to Football Study Hall, passing downs are "second-down-and-8 or more, third-and-5 or more, or fourth-and-5 or more." Offenses throw approximately 2/3 of the time on passing downs. Breaking it down: when offenses should throw but don't, about 1/3 of the time, the UH defense is pretty good in stopping them. Think good pass protection, QB hurries, and TFL.
Oklahoma head coach Lincoln Riley has molded back-to-back Heisman trophy winners but this season could be his most challenging at QB so far. Notable: Hurts doesn't have Murray's top target from a year ago, WR Marquise Brown (75 receptions, 1318 yards, 10 TDs), although returning WR CeeDee Lamb is a star (65 catches, 1158 yards, 11 TDs as a sophomore in 2018).
Riley may be tempted to challenge UH's inexperienced secondary and to build Jalen's confidence. But if he watches the film of the Temple, Memphis, and Army games at the end of the year, he'll see the only game plan that makes sense: run it early and run it often. GoCoogs will dive into detail on this tomorrow.

"I'm excited about our potential," Lincoln Riley recently told to the Tulsa World (insert link). "But as we've seen the last few years, so much has to come together to be the team you want to be."


To Walk Away With A Win…
For the Cougars to walk away with a victory, here's what the defense needs to do:

1. Turnover Battle: In the past four years, OU has lost only 8 times (two each season). The Sooners finished with a negative turnover differential in six of the eight. If the box is stacked, the defensive backfield is going to need to create turnovers. Turnovers win games is cliche but it was one of the few spots statistically where the Cougars excelled on defense last year.

2. Win third & short – at least sometimes: Last year, the Cougars stopped a team on 3rd & short 13.3% of the time, 119th nationally. It was worse in the second half of the season when Ed Oliver played only sparingly. To have a chance, UH has to be able to get off the field. Can the Coogs confuse Hurts? And can they penetrate against a new OL?

This is especially key early in the game – will Riley be aggressive on 4th down if his new QB and OL are struggling?

3. Get to the QB on standard downs: Standard downs are plays where the offense could conceivably run or throw, giving them the advantage. Standard downs are defined as: first downs, second-and-7 or fewer, third-and-4 or fewer, and fourth-and-4 or fewer.

Last year, the Cougars were 129th in standard-down sack rate – dead last. A sack on a conventional down can flip a series completely.

Lagniappe: Oklahoma averages 48 ppg in their 46 wins over the last four years but drops to 31.6 points per game in losses (although they have scored 45+ in three of their last 4 losses). Early lack of success could cause panic with an unproven OL and a QB looking to assert control.


What did you think of Chris' first story?
Have you noticed?
It's football season at GoCoogs.com! We're non-stop with quality Cougar Football content.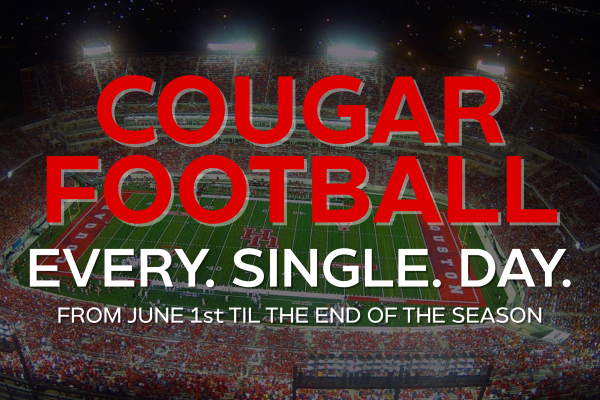 Subscribe Today And Save 40%
At GoCoogs, June 1st to a week after UH's bowl game is our football season. We're planning an avalanche of Cougar Football Coverage in 2019: over 300 pieces of unique UH football content!
No one writes more Cougar content than GoCoogs! A subscription to GoCoogs includes: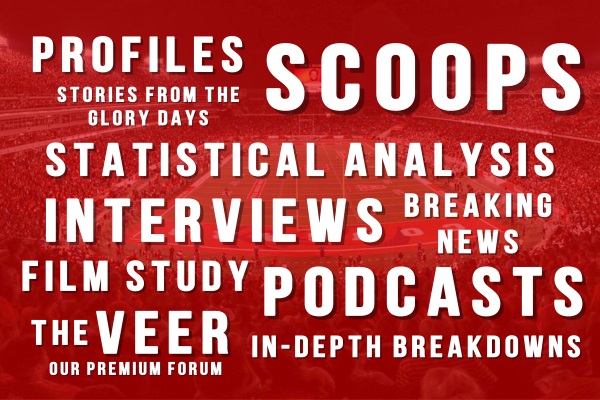 Get access to all of our content and the Veer forum for just $47.99 for the first year – 40% off of our regular price. Click below to subscribe:
Or you can subscribe month-to-month:

Inside scoops you can't get anywhere else;


Smart analysis and exclusive stories;


Position-by-position breakdowns of the 2019 team;


Weekly opponent previews;


Profiles of current players;


Unique UH player and recruit profiles;


Q&As with players, coaches, and administrators;


Our popular series on the UH Glory Days;


Our subscriber-only message board, The Veer;


And more!
*Please note: the promotional subscription rate above is valid the day the article is posted but cannot be guaranteed after that. If the subscription links work then great! You're all set.
But if they do not work, please check our Promotions Page for current specials.