The Cougars were dominant is a 45-10 takedown of favored Tulsa on Friday night. UH scored on four-straight drives starting midway through the first quarter and never looked back. Clayton Tune looked in control early and Alton McCaskill ran well, scoring three times. As always, the defense dominated as the DL controlled the line of scrimmage and forced Tulsa out of their comfort zone. The numbers from beyond the box score:

These are the kind of numbers you love to see from your defense: four sacks, 9 TFL, a forced fumble, 3 interceptions, 5 pass breakups, 3 QB hurries. That's 22 of 67 snaps where a defender ruined the play. That's ideal.

And how about D'Anthony Jones? If AAC refs had any desire to call the blatant holding right faces, D'Anthony would have had 4 sacks (he had 1). This was Tulsa's most successful play last night and they kept running it: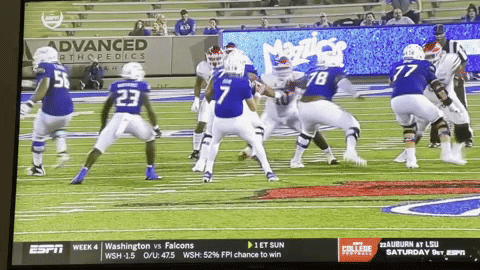 Brian Early's unit was completely disruptive all night.

UH now has 13 non-offensive touchdowns under Dana Holgorsen (25 games). This year, the Coogs have one in four straight games: Rice Grambling Navy Tulsa
The 13 non-offensive TDs have come in 10 games – UH is 8-2 in those games.

Alton McCaskill has 7 TDs on the ground and one on that wheel route in the Rice game – a total of 48 points scored. In the last 3 seasons, only Marquez Stevenson in 2019 (54 points) has scored more among non-kickers. McCaskill has done it five games (four, really, as he only had 4 runs against Texas Tech).

Donavan Mutin tipped a pass that went right to Gervarrius Owens and Owens took it to the house 45 yards early in the 3rd quarter. Owens was born and raised in Oklahoma and gave his friends and family a special memory just 115 miles from home.
Owens took the circuitous route to Houston: from Southmoore HS he went to Northeast Oklahoma for JUCO then to Minnesota to row the boat. But it didn't work out with the Gophers and he found his way to Houston.
Gervarrius was recruited out of Southmoore to UH by Derek Warehime, the OL coach under Tom Herman and himself an Oklahoma native. Brian Early doggedly recruited the 6'1″ defensive back to Arkansas State and built a lasting relationship with him; Early recruited Ownes through high school and junior college. It was also Early, and then Belk, that reached out to Gervarrius when he left Minnesota.
"(Early) was a good dude. I liked how he recruited me, he's a very real and honest dude," Owens told GoCoogs.com when he signed with Houston. "He's not going to, you know, some colleges leave a lot in a grey area. I like the fact that he keeps it true and authentic to what he's telling you and things like that. He made it very comfortable for me within the short amount of time I had to make a decision."
Owens said it was vital to find coaches that could develop his talent and he felt Doug Belk was the perfect guy. Seems he was right.

Clayton Tune's first quarter was possibly the best of his career (9/12, 148 yards). Going beyond that, his first 16 passes were fantastic (13/16, 200 yards). He was on the money on every throw.
He hit a rough patch right after it, missing three in a row. Dana Holgorsen called it a lull last night after the game, which seems like a fair assessment. After the lull, Tune made 10-straight completions for 174 yards and seven first downs.
Tune had a similar lull early in the Navy game, missing four in a row and five of six before running off 16 of 18 for 139 yards and eight first downs.

Damarion Williams picked off his second-career pass at Tulsa. He returned one 25 yards for a score in 2019 that put the Cougars up for good.


Dalton Witherspoon needed that 4th quarter field goal in the worst way. His form was good and came all the way through the kick, splitting the uprights from 48 yards out. After missing kicks in four straight games, including earlier in the 4th, I'm glad Dana made it a priority to get him another chance and go into this next week with some confidence.
Talking to several current and former kickers this week, they all agreed that Witherspoon just needs to continue getting game reps and build on the confidence that his coach and teammates have in him.

The defense continues to stifle. Until Tulsa's last 5 plays of the game, they had just -3 yards rush. UH held the Hurricane to -33 yards rushing in the 2nd and 3rd quarter on 14 attempts.

Two years at Chapman Stadium, Tulsa ran for -1 yard (yards?) on 23 attempts. Meaning that for 27 attempts, until the last four rushes Friday night, the UH defense held Tulsa to -4 yards on the ground.

Tulsa had 308 yards rushing a week ago. They went from 6.3 yards a carry to 1.1 against Belk's defense. Overnight, Tulsa dropped 30 spots nationally in rushing offense.

Houston is now 11-10 in Tulsa, 26-19 overall vs. the Hurricane, 2-0 in AAC play, and 41-7 in October games since 2006.

It was UH's biggest conference road win since 2015 (UCF, 59-10).

It was also Tulsa's worst conference loss since the Cougars beat them 70-30 in 2008.

Photos courtesy of UHCougars.com
Widget not in any sidebars