In high school, 16-year-old K.C. Beard spent a day shadowing a real estate agent as he tried to figure out what he wanted to pursue as a career. A native of Parma, Idaho – a rural town of 1800 when Beard was in high school – he was considering a job as a financial planner.
"It was like the most boring day of my life," laughed Beard, now 40, who now works for Houston Men's Basketball as "Special Assistant to the Head Coach" Kelvin Sampson after a year on the coaching staff.
"I came away from that, and I said, 'Yep, I want to go into coaching.'"
It was an easy decision for a high school basketball player and the son of the team's coach. Beard spent much of his early life in and around the coaching sphere.
"I grew up around being in locker rooms and things like that," Beard said. "From that point on, I kind of geared all my decisions toward that aim (being a basketball coach)."
After transferring from a junior college to Boise State, Beard began his coaching journey as a student manager. After graduating in 2008, he spent a year as a video coordinator at SMU. He then landed a job as a graduate assistant at West Texas A&M under Rick Cooper, that program's winningest coach in history. Cooper gave Beard his first hands-on experience in coaching.
"When young coaches or student managers ask me for advice on where to be a graduate assistant or those kinds of things, I think if you can do it at the Division-II level, it's an amazing experience," Beard said. "You're not just a GA; you get to be an assistant coach, you get to recruit, you get to be on the floor coaching positions."
It was also a preview of what he would do at Houston. Beard started working with WTAMU's centers and began recruiting, both of which he would do later for Sampson. Cooper built his program similar to what Sampson has done at UH: on defense and toughness.
"I think I was fortunate when I look back at my experience in West Texas, so I kind of knew what to expect (at Houston)," Beard said. "Then to see what (Sampson) did in terms of taking it to a whole new level…for me, it has been such an awesome experience because I'm learning from the best how to do this."
Beard did not meet Sampson until he worked in the NBA as a video intern, a job that allowed him to soak up gobs of basketball knowledge from the league he described as "almost like a think-tank."
"When you go work in the NBA, it's like getting your master's in basketball," Beard said. "In three years in the NBA, I saw close to 1000 games. And so when you're exposed to that many games, that many reps, it opens up your mind to what basketball could be from a strategy standpoint… It's almost like a large library of basketball."
After two seasons in Portland, Blazers' assistant coach Jay Triano brought Beard to the Canadian national team in 2013 as their video coordinator. Sampson also joined that staff, and that's when the two got to know each other during the free time the team had during their travels.
"It has been such an awesome experience because I'm learning from the best how to do this."
-K.C. Beard on Kelvin Sampson
One night, after an exhibition game in Toronto, the team held a social with coaches, players, and their families. But as the others chatted, Beard toiled away, watching tape in the film room. After the social ended, Sampson's wife, Karen, brought him food.
He took the gesture as a sign that he had earned Sampson's respect as a hard worker.
"I come from a farming, ranching, agricultural-like hard-working environment," Beard said. "My work ethic, and my trying to always just be so about getting that (my job) done, thankfully made a good impression on him."
A year later, that impression eventually led to Beard earning the job at Houston when Sampson took over. As soon as he joined the staff, Beard took full advantage of the opportunity, helping Sampson find new ways to look at the game and, more importantly, help him get his points across to his players. In addition, Beard's constant search for ways to improve the program made him invaluable to the all-encompassing culture.
Beard says two things define the Kelvin Culture: Family and Love. "I say family because of how much time, energy, and effort we put together; you truly become like a family. And I think to play as hard as we do, the only emotion that can get players to do what they do, is a love for their teammates, for the culture, and for the program.
"I think the culture is always about not only what's my job, but what can I do above and beyond to make it better for all of us," Beard said. "I'm not a former player. I don't have the leeway that some of these other former players and names can be on. I have to be dependable. I have to be available. I have to just work my tail off because I'm not going to be able to just show up and wing it."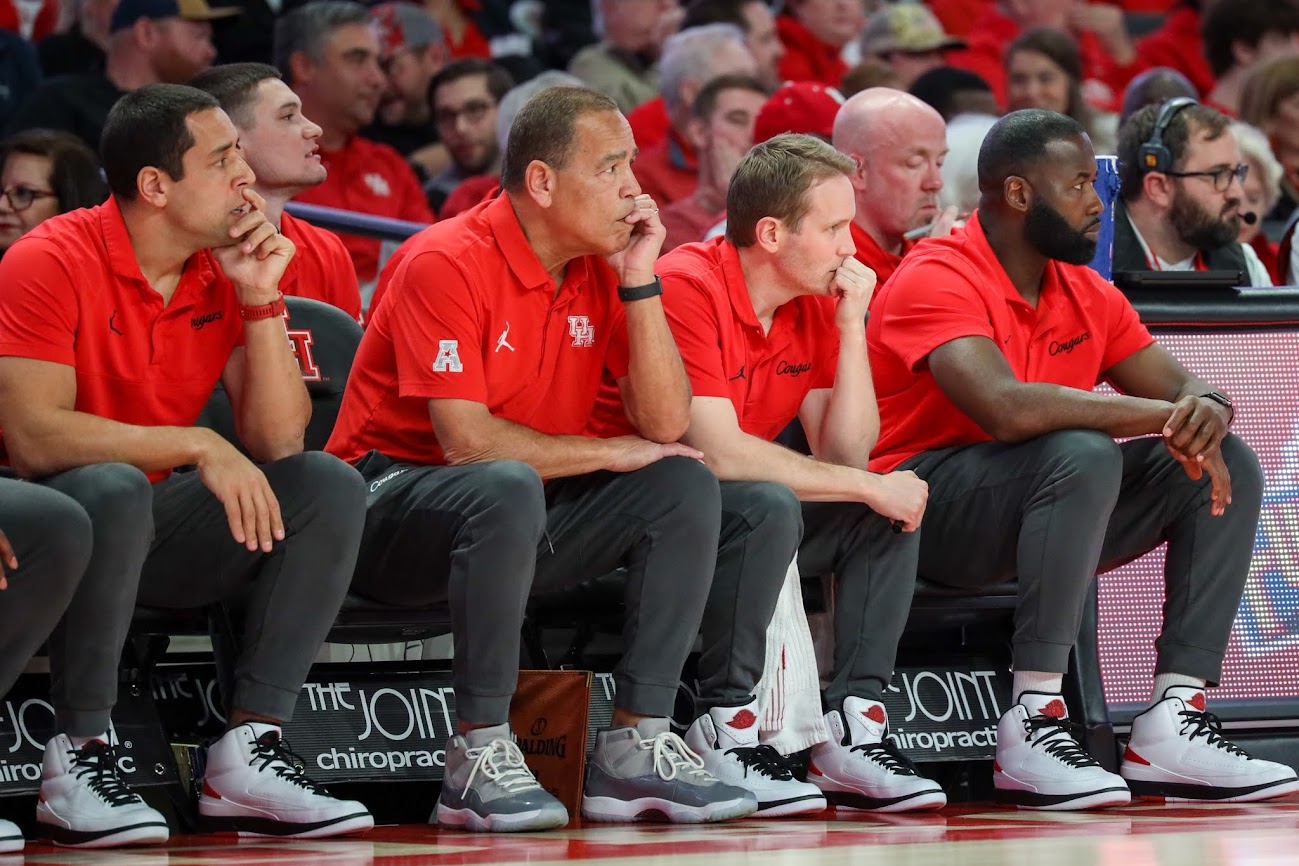 After seven years of grinding in the video room, Beard finally got his chance to coach. Promoted to assistant coach before the 2021-22 season, Beard was tasked with coaching the centers, just as he did in West Texas.
It didn't take long for him to start impacting the team. With his encyclopedic basketball knowledge, Beard began challenging UH players to open up their minds and see the game from new angles. Beard teamed with assistant coach Hollis Price to start the "Motor Club," a set of collective goals and on-court responsibilities designed to unify the center position and to set the standard of hustle and toughness. To Price, Beard's ability to coach was no surprise.
"That's a brilliant basketball mind," said assistant coach Hollis Price, who came in at the same time as Beard in 2014. "Sitting back and watching him grind, it just showed how good of a coach he was going to be."
According to veteran player Reggie Chaney, Beard's coaching has paid massive dividends on the court for the players.
"I think the development he's done with the fives, I think he's made us a lot better within this system," Chaney said. "And made us more than just a traditional back down five; now we can move and do a lot of other things."
Beard works to connect with players both on and off the court. Ja'Vier Francis calls Beard a mentor and his calm presence helps players feel comfortable going to him about things outside of basketball.
"He's just one of those guys I can go talk to, and he's always going to be there and help you," Francis said.
As an assistant coach, Beard recruited Emanuel Sharp. When Sharp broke his fibula in the summer of 2021, Beard was instrumental in getting him to Houston a semester early, helping the new player adjust to college life. By coming a semester early, Sharp received daily comprehensive physical therapy.
"He was with me, making sure I was doing the right things, keeping me in a straight line," Sharp said. "He's easy to talk to, so whatever problems I have, if I need anything, he's just an open book… He's more like a second dad (to me) in this program. He's guided me and helped me every step of the way."
When building those relationships and trust with the players, Beard doesn't claim to have a secret formula. Instead, he says it's a matter of being reliable and helping them grow. Drawing closer to the players made the transition from video coordinator to coach more enriching for Beard.
"When you're in the video room, it's a little bit more of a hands-off role," Beard said. "I think the thing I've enjoyed the most is getting to know the players in the one-on-one setting, recruiting, getting to know these families, and getting to see the impact you have on these players."
After a year as an assistant coach, Beard and Price effectively switched roles but several staffers believe the two jobs are hybrids of each other. As the special assistant, Beard continues to mentor players off the court while seeking analytical or strategic ways to help the program.
"My dad passed along to me, in a nutshell: work hard, have fun, do your best, and be a champion," Beard said. "And I think you have a lot more fun working than when you're just goofing off."

For more content like this, please consider subscribing to GoCoogs.com to help our Cougar Coverage. Otherwise please read the Kelvin Culture Series.

Subscribe to GoCoogs.com for just $10.99 a month ($89.99 annually) or support our name, image, and likeness efforts by subscribing to HOUNIL.com for UH athlete-created content.