The 2021 Houston Cougars came into NRG Stadium with a lot of confidence. This team is returning a lot of talent and has an advantageous schedule. My focus is on the defensive line's play in the game. There are quite a few things to celebrate as well as some things to clean up as the season moves forward.
The effort defensively up front was very good on Saturday night. Effort does not always correlate to success on the field but it definitely helps. Derek Parish, Sedrick Williams, and D'Anthony Jones made big plays but others like Atlias Bell, David Anenih, and Logan Hall showed flashes as well.


The ability to win one-on-one battles was very encouraging. This was most evident in big plays like the sacks from Parish and Jones but also in the D'Anthony's goalline strip. Upfront, the name of the game is for the offense to not be able to touch you. The DL must have several moves to shed the block and has to be agile with his hands.
Here you see D'Anthony Jones getting inside leverage on the tight end, which is a total mismatch. Jones easily frees himself from the block and uses his left arm to strip the ball.
Being able to generate pressure from a four-man rush helps the rest of the defense behind them. Our pursuit was very good on plays to the outside and UH made some plays in the backfield versus the run and the pass. Ultimately, our athleticism on the defensive line is where our strength lies. We also seem to have strength in numbers, with at least two full lines being able to rotate throughout the game. I did not notice much of a drop-off in talent once substitutions were made which is a very good sign, moving forward.
While this Texas Tech offense is different than the one that I played against in 2009, they still push the pace and get the ball out quickly. The Houston defense struggled, at times, to get lined up, which led to positive offensive plays. Because the ball is often thrown quickly, the pass rush technique must be as efficient as possible.
Though we generated pressure with our front four, our technique, particularly the use of hands, was not as good as I had hoped. Anenih and Williams will need to clean up their hand techniques in order to turn pressures into sacks.
The defense's lack of blitzing and imagination hurt the defensive line. UH ran very few pressures that brought five or more people which allowed the Tech offensive line to tee off on our front four. The inside rush was noticeably more successful when a fifth person rushed. I hope to see another man rushing more often in the upcoming games.
Our tackling needs to be cleaned up, particularly in pursuit. In the 3rd quarter, the defensive line had two missed tackles on a tunnel screen that led to a huge gain.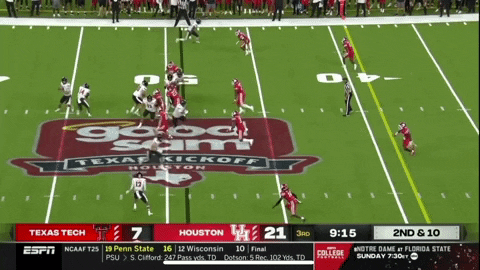 Good technique and a stop there and it's 3rd and 10 near midfield. Instead, Tech gets 32 yards and they punched it in two plays later. But it's still early in the season and I expect things like this to improve as we get further into the schedule.
Throughout the game, our pad level was less than desirable. This led to UH's defensive tackles getting pushed around and edge rushers getting washed down on outside running plays. It was particularly obvious when the edge rushers were in two-point stances (standing up rather than with their hand on the ground). The lack of production inside, from our defensive tackles, was also noticeable.
I was hoping to see more out of Olivier Charles-Pierre and Latrell "Big Bank" Bankston but this wasn't a game that favored them due to Tech's pace and play-calling. UH will need to rush the edges of the offensive linemen – the gaps – and stay away from the bull rush (running down the middle of a blocker, head-to-head). I am in favor of seeing more of Williams and Bell due to their athleticism inside.
Our gap integrity, particularly inside, was not always the best. There were often times with one of our defensive tackles would peek into a gap that was not their responsibility and that clouded up the picture for the linebackers and safeties behind them.
To really get a feel for the defensive line's play, fans should watch from the end zone or a spider cam if that's available on a televised game. You are able to have a great vantage point of the defensive line's alignment, gap integrity, and the overall play call on every single play.
Coach Brian Early has a talented group on his hands, and I expect them to continue to improve as the season goes on. He seems to be one of the most talented defensive line coaches that we have had. By cleaning up some of the small things, like gap integrity and pad level, I expect this group to be extremely successful this year with a solid rotation of talented guys. This one game does not define a season.