The player that most often gets lost in the passing game is the running back. And Dana Holgorsen loves a running back that can get into space and make plays in the passing game.
That's a big reason Dana keeps saying that Alton McCaskill can do everything and that he doesn't act like a freshman. Two similar pass plays to him on the first drive against Rice prove that. To make them work, the running back needs patience (especially on the first one) as they are slow-developing plays.
Play #1: The Setup
The presnap motion here is key. Carter goes in motion which pulls the safety (#3) back to the middle of the field. The safety will be the second person to identify McCaskill and the first to figure out what's really going on. If he were on the play side, he'd blow this up fast.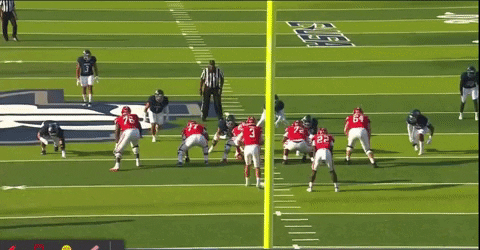 McCaskill runs a slow slip screen between LG Keenan Murphy and center Kody Russey. He's patient and keeps his shoulders towards the hole. He also doesn't turn to look back at Tune until after he clears the line. Now there's just the weakside linebacker (#1) between Tune and McCaskill. Keenan Murphy does a good job to stay engaged with #1 but the LB does a good job of sliding down the line with Tune. Dana will make #1 pay for that discipline a few plays later.
Tune makes eye contact with the safety early in this play to keep him in the middle. He also makes a great throw while pedaling left, leading McCaskill on the perfect angle.
Z receiver Jeremy Singleton is out wide to the left and has to push his defender downfield. He's also responsible for keeping his man off of McCaskill. He does a good job here.
The most important blocker here is Christian Trahan. Trahan comes across the middle to crack the Mike linebacker (#33). The Mike is the first person to identify McCaskill as a threat. Trahan slows him down long enough to allow the RB to slip free. Russey gets to the second level and helps as well but, #33 will end up making the tackle after an eight-yard gain.
By itself, this is a great play to get McCaskill involved but the point is to set something up…
The bulk of this article is for premium members
Widget not in any sidebars