We gave you Navy by the numbers so here's a little different look at UH by the numbers:
In less than one season as QB (10 starts), D'Eriq King has 28 passing TDs putting him 13rd on the all-time UH list. With 9 more he will enter the school's top 10.
The UH offense is 26/30 (87%) in the red zone and has scored 24 TDs. Navy is a perfect 20-for-20 in the red zone this year, scoring 16 touchdowns and kicking four FGs.
The Coogs are 3rd in scoring offense and 4th in total offense in the country. And UH is the only school in the top 16 in both rush offense (16th) and passing offense (also 16th).
Since Navy joined the league in 2015, UH is 19-7 in AAC games while Navy is 19-8.
Navy is top 5 in least penalties and penalty yards. UH is coming off their most penalized game (and most penalty yards) in 5.5 years. That's not a good comparison for the Coogs.
UH's six-straight games of 40+ points is the longest active streak in FBS. 40 points this weekend ties the 2011 team for most consecutive games over 40 points.
The 2011 team went over 40 points nine times.
A win this week makes UH eligible for their sixth-straight bowl game which would be a school-record. The current streak of 5 has only been done once before now (2005-2009).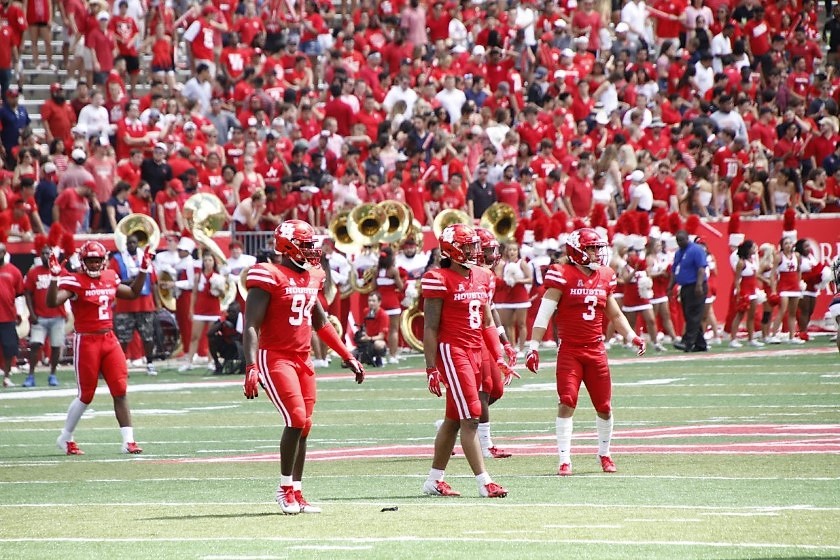 Top 5 senior classes by wins:

2016: 38 wins
2017: 37 wins
2009: 37 wins
2011: 36 wins
1979: 36 wins

The 2018 senior class has 34 wins and counting.

The 1979 team had 4 fewer losses than 2016 or 2017 and 6 fewer than 2009.

The 2001 class had just 13 wins. The 1995 senior class had 8 wins – lowest in program history. Thanks, Kim!
The Cougars are 12th in total wins across FBS since 2014 (42 wins). That's first in the AAC. Navy is 35th in the country with 37 wins in that span – good for 4th in the AAC.
UH is 18th in total wins in the last decade (83). Navy is 26th with 78 wins (2nd in AAC).
Over the last 15 years, UH is 25th in total wins with 118. The Coogs trail Navy (121 wins).
Since 2006, UH has more total yards than Texas Tech. Didn't see that coming:

Rank Team Total Yards (06-present)
1. Oregon 81,796
2. Oklahoma 81,406
3. Houston 80,156
4. Texas Tech 80,130

In 2015, UH scored 5 times defensively. In 2016, the Cougars scored 8 times on defense. In 2017 and 2018? Just once each – both against East Carolina.
NON-OFFENSIVE TOUCHDOWNS SINCE 2010

Rank School TDs
1. Oregon 45
1. Utah 45
3. Oklahoma State 43
4. Houston 42

UH is 6-6 in daytime games under Major Applewhite. The Navy game is 2:30 p.m.
Coogs are 9-1 under Applewhite when leading after 3 quarters. The 4th quarter is Navy's worst by far: they've been outscored 55-38 (outscored 128-123 in first 3 quarters).
UH has scored 87 fourth quarter points this year – their best offensive quarter. The Coogs have 80 first-quarter points.
Under Major, UH is 1-4 when the opponent has more rush yards. The single win: 2017 over Navy (Navy 217 rush yards, UH 103).
Next Up:
#GoCoogs
Do you need more UH coverage? Subscribe to our posts!
Get all GoCoogs.com stories in your inbox.