Here's an interesting nugget from our spray charts this year. Clayton Tune has picked up a first down on 17 of 41 passing downs (Passing downs are defined at 2nd down and 8 or longer and 3rd/4th down and 5 or longer). That means Clayton picks it up 41.5% of the time, well above the college average of 30%.
Here is Tune's spray chart from the Navy game. We chart the distance of the throw not the distance of the play:
Tune was pretty bad over 20 yards against Navy – just 1/7. But I think that is to be expected when the QB is dealing with a hamstring injury. A similar thing happened in 2019: he injured his hamstring vs. UNT and struggled the next week vs. Cincinnati, going 9/27 with 3 INTs. He threw a lot of deep balls that day and then didn't play the next week vs. UConn.
But his under-20-yard spray chart vs. Navy is interesting. The two white dots mean "hit defender" and came on his 2nd and 4th throws of the game. Besides those two errant throws, he completed every single pass thrown under 20 yards (19/19). Overall, he was 7/8 on balls that traveled 10-19 yards and 6/6 after the pass that hit the defender in the helmet. That's progress.
Navy generally rushed three and dropped eight into coverage. Tulsa won't do that but they'll give him some things underneath like Navy did. He needs to continue to take advantage of that.

Tune's first throw of the Navy game is probably my favorite throw of the year and one of Dana's best calls. Let's set this up:
Clayton's first throw in the Tech, Rice, and Grambling games went to Nathaniel Dell. Navy knew that Tune has a first-throw tendency and that he loves throwing it deep to Dell.
So it's 2nd & 4 which is not a "passing down" but is actually the perfect passing down. Here, Navy shows a version of a 5-under cover-3 defense. Dell is out to the right and the corner (#5) is playing him up. The corner's actual responsibility is deepest and widest – the receiver that goes the deepest to his 1/3 of the field. But #5 knows that will obviously be Dell.
On the snap, #1 the hybrid LB/DE in Navy's system (called the striker) crashes toward the line to take the underneath outside zone. As he does, #5 slide-steps with Dell until the WR turns inside for a quick five-yard in-route. #5 sees Trahan releasing by him but is still unsure and he takes another uncertain slide-step towards Dell before realizing that Trahan has become his man. Deepest and widest. Whoops.
#5 is at the bottom of the screen: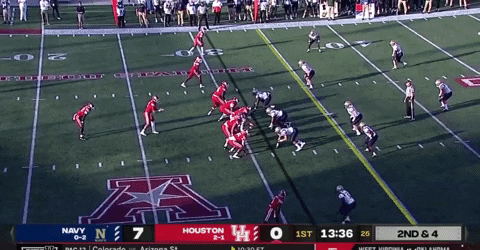 So #5 has been neutralized and Trahan glides past the second level. Navy rushes three and the tackles and center have them engaged, giving Clayton plenty of time to wait for the route to materialize.
Trahan gets eyes on Clayton just after he breaks it off heading towards the on a shallow corner route. Clayton's timing mechanism is to make the throw as Trahan cuts towards the sideline. The throw is towards Trahan's lead shoulder and closest to the sideline, minimizing the risk of the safety picking it off. With the hamstring issue, there's less margin for error – this throw is going to have a little air under it but Tune places it perfectly.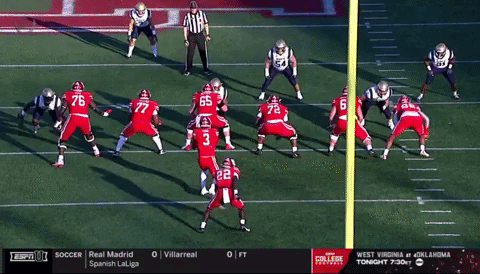 It's a beautiful set-up, which the staff has been working on all year, and great execution from the OL, Nathaniel Dell, Trahan, and Tune.