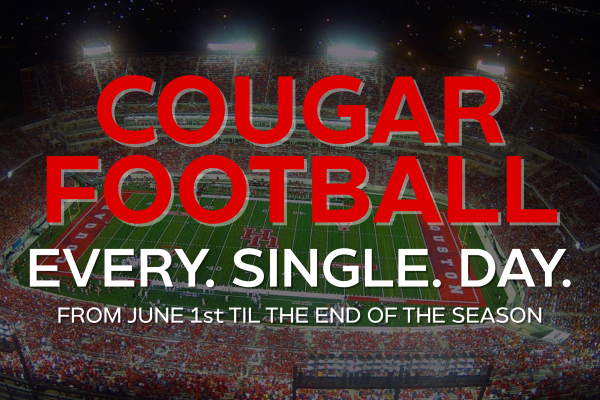 In 2019, GoCoogs will produce approximately 300 quality pieces of in-depth Cougar Football content – far more than any other source! 90% of that content will be exclusively for our subscribers.

GoCoogs.com takes Cougar fans beyond the game recap with premium content and exclusive stories you can't find anywhere else.
40% OFF THE 1ST YEAR
Right now, you can get a subscription to GoCoogs for $47.99 for one year – 40% off our regular price! Become part of the fastest-growing Cougar community!

1 Year Subscription – $47.99
No one offers more unique stories on the Cougars than GoCoogs.com with in-depth, thoughtful analysis. And there's no place on the Internet for more quality discussion of the University of Houston than GoCoogs.com.
Subscribers Receive:

Inside scoops you can't get anywhere else

Our Insider message board, The Veer

Smart analysis and exclusive stories

Year-round UH football coverage

In-depth coverage of basketball, baseball, and more

Game Film Breakdown

Stories from yesteryear: reliving UH's greatest games

New for the 2019 season:
Talkin Bout Them Cougars
Podcast

Special Veer profile flair

Awesome UH emojis on the Veer like this:
Subscribe today!
We also offer discounted subscription options for UH students & staff: a monthly ($3.99/month) or annual ($29.99) subscription. These plans are only valid when subscribing with a @uh.edu e-mail address.3We reserve the right to verify if students and staff are currently enrolled or employed at UH.
Students & Staff Monthly – $3.99 | Students & Staff Annually – $29.99
GoCoogs.com is the only UH subscription website with special pricing for UH students & staff.

For those wanting to help ensure the long term success of GoCoogs.com and to subsidize student memberships, we have created a Super Supporter level.4Super Supporter does not convey any additional benefits. It is a way for those that have the means to support the site a bit more.


*By clicking Place Your Order, you agree to our Payment Terms. After year one, your subscription renews at the regular rate of $79.99.