Another Big 12 team wins the national championship, and with it, the 2021-2022 season has finally ended. And that means I can finally write this article.  At least, that is what I have been telling myself for the last week.
For days, I sat at my desk and re-read box scores and game stories, looked at a handful of games, and watched Taze Moore win the College Slam Dunk Championship. I even watched the McDonald's All-American game and a couple of games of the Geico Invitational to look at the incoming freshman Jarace Walker, the #1 power forward in the country.
I planned to gather all of this to look back at this season and ahead to next year, but I was lying to myself.  I didn't want it to end and did not want to get off the magical ride this team took us on.
Coming into this season, my expectations were not high. Obviously, UH would be good but after losing 3 starters – Quentin Grimes, Dejon Jarreau, and Justin Gorham – and a strong contributor in Brison Gresham, I figured that getting a win in the NCAA tourney would be an accomplishment. The Cougars had a strong nucleus to build around, with Marcus Sasser, Tramon Mark, and Jamal Shead coming back and Fabian White getting another year.
But once it became clear that Kelvin Sampson would depend on three transfers – Kyler Edwards, Josh Carlton, and Taze Moore – it was unrealistic to expect everything to click and for UH to make another run in the tournament.
It turns out things didn't go our way.  UH lost Sasser and Mark in December and would be without two go-to guys the rest of the season.  Sampson had about a week to figure out a plan to fill over 50 minutes per game with a short bench.  No team can survive that, right?
It is easy to tie your expectations to the limitations you see. That's pretty much what fans and broadcasters spend their time doing. But Kelvin did what he had to do: he regrouped at Christmas, accepted what he'd lost, and went to work trying to reinvent his team on the fly. Once the New Year hit, UH had become a new animal.
That transformation made this team special to me and a whole of others.  A group of young men grew together and overcame huge obstacles to do what no one thought they could. But, of course, not everything went to plan: a big lead in the conference standings evaporated in a week after back-to-back losses, the first time that had happened since 2017. Then, UH was boat raced in Memphis to end the season but all of that adversity made this team stronger.
Guys that had been growing into their roles had to do more than they ever have before.  Jamal Shead went from playing 10 minutes a game to becoming one of the best point guards in the country and UH's undisputed floor general.  Fabian White morphed into a beast, with career highs in points, rebounds, assists, steals, and blocks. In addition, he made 49 three-pointers after having attempted just 8 in his first four seasons.
Kyler Edwards became the go-to scorer and a lockdown defender, routinely shutting down the opponent's top offensive threat.  Josh Carlton went from being a forgotten player last year at UConn to the guy UH ran the game through. Taze Moore went from being an electric athlete – a fart in a skillet – to being an all-around player that could do damage in every phase of the game.  Ramon Walker burst onto the scene, making big contributions, and was a key rotation piece.  Reggie Chaney fought through injury to provide a big physical presence, and J'Wan Roberts became a big body force inside and showed flashes of great things to come.
All of this growth happened right in front of our eyes. We witnessed this transformation game after game and night after night.  This team did not have the luxury of a trip to Italy to bond or hundreds of hours of practice together. They did not have the entire summer to learn how to play with each other. Instead, they had 10 days at Christmas.
My favorite part of the entire season was realizing that these guys looked like they loved every minute of it.  They looked like kids on the playground and reveled in just playing the game. Of course, they still played like rabid dogs but they looked like they were having fun the entire time.
After UH beat one-seed Illinois to advance to the Sweet 16, Jamal Shead captured perfectly what this team was about and how they were able to do it:
"This is kind of who UH basketball is right now.  It's our heart.  We don't want to lose and we want to win for each other.  We love each other so much. These guys are like really my brothers.  It goes way beyond basketball.  We don't want to lose for each other.  I don't get this year back with Taze with Josh with Kyler with Fabe, you know.  We just want to keep it going as long as we possibly can."
This team felt like the other all-time great Cougar teams: they did more with less. UH might have better teams in the future but it will be hard to find a team that is as special to me as the 2021-22 team. And down the road, when he's hung it up and is just a fan, I bet Kelvin Sampson says the same thing.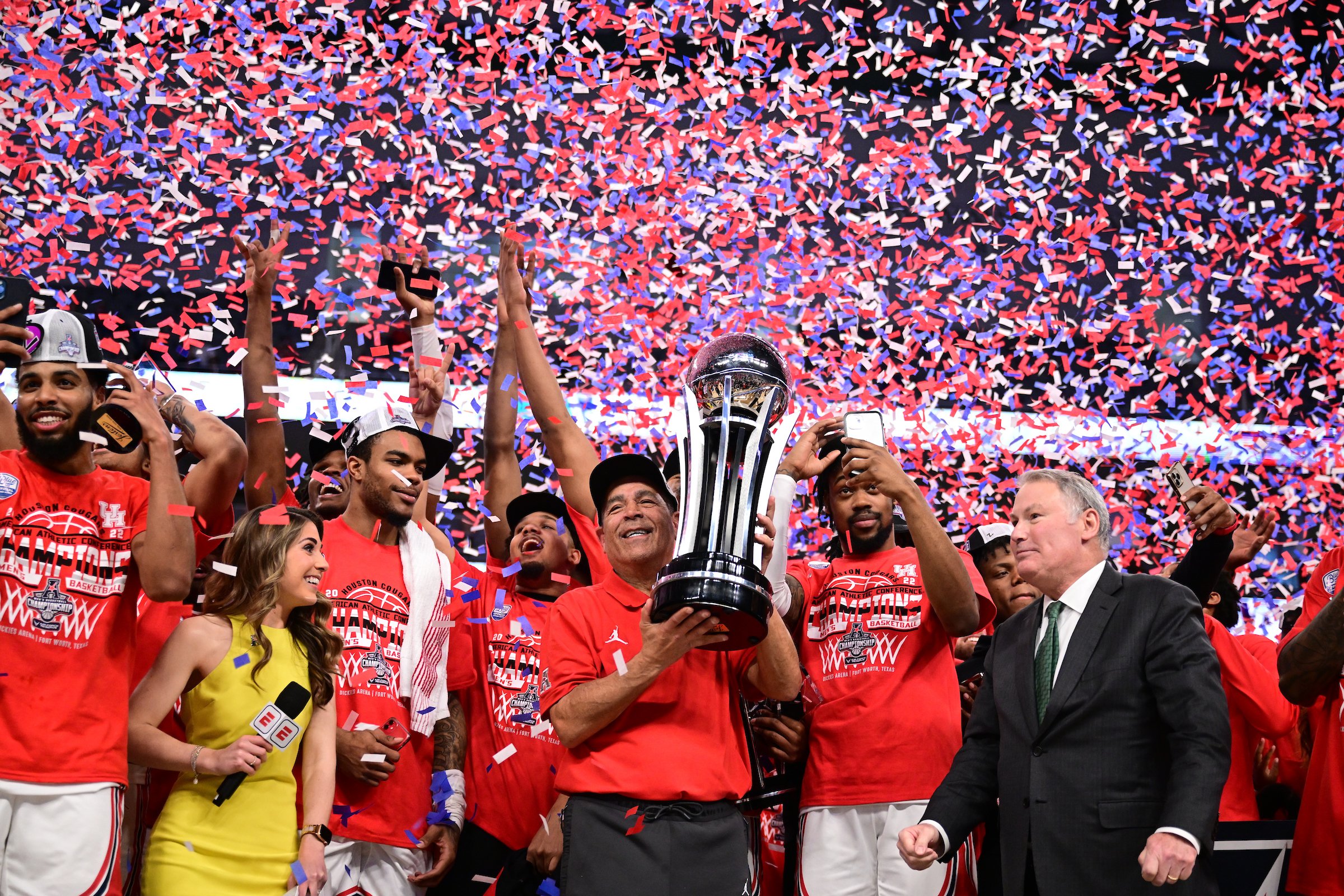 Subscribe for just $39.99 for a year.