Stat Of The Game
Scoring opportunities are defined as a drive where a team crosses the opponent's 40-yard line. UCF had nine scoring opportunities and ran up 44 points (4.89 per opportunity), scoring on eight of 9 of those opportunities. You don't lose when you can do that.
On the other side, UH put up just 14 points on 7 scoring opportunities. You're not winning if you can't close the deal after getting into position.
Under Dana Holgorsen, UH is now 2-7 in games where they allow more than 3.5 points per scoring opportunity. The two wins were UNT and Tulsa in 2019, games that UH won thanks to defensive and special teams scores (punt & kick return vs. UNT and pick-six and kick return vs. Tulsa). And the Hurricane scored touchdowns on their two scoring opportunities, distorting the stat somewhat.
This week's opponent Cincinnati has put up 10 TDs in 11 scoring opps in the last two weeks against SMU and Memphis (they were 5/5 with 5 TDs against the Tigers on Saturday).
Cheers…Jeers…And Beers?Cheers!
Payton Turner for his strip-sack that allowed Grant Stuard to scoop and score from 34 yards out. Turner has been a one-man havoc machine this season. He has four sacks and 9.5 TFL on the year.

Jeers
To the rush defense. UCF had six rushes for 0 yards in the first quarter but they turned it on from there, piling up 353 yards on the ground in the final 3 quarters. UCF's three running backs average 9.8 yards a carry in the last 3 quarters. Oof.

Beers!
– The yellow line had a rough day. Give him a brew. Or maybe he's already had a few:


This was just when the yellow line showed up – he didn't make an appearance on every play (or series). Coulda been in line getting more drinks.

Cheers!
To the defense (sorta) – There are some jeers for the defense above and below but in the heart of the game, the defense stood up and gave the offense a chance to get back in it. On six-consecutive drives over the 2nd and 3rd quarters, the Cougars gave up just six points. UCF had drives scoring two field goals, they missed a FG, and they punted three times. UH gave up 5.9 yards a play in those six drives but stood tall when it counted.

Jeers
Cougar Tempo – Of UH's 13 touchdown drives of 5+ plays this season, only three have happened in less than 3 minutes: the first score against Tulane, the drive that put UH up 10 at Navy, and the 4th quarter touchdown vs UCF that went 8 plays and lasted 2:46. At the same time, UCF had four 5+ play TD drives that lasted under 3 minutes in this game. They use tempo incredibly well when needed.
Dana doesn't have a desire to go tempo – I get it. But the Coogs were down double-digits for the last 41 minutes of the game and tempo was needed. A disciplined team can use tempo to their advantage by not letting the defense substitute although fake shoe injuries can always happen. Segue!

Beers!
Decleated – UCF coach Josh Heupel ought to buy this poor injured UCF lineman an IPA. #33 is Tre'mon Morris-Brash whose injury was a shoe. The refs let him sit out on the field for 90 seconds giving UCF players time to catch their breath, time for coaches to substitute, and do some on-field coaching.
Below, Morris-Brash is walking by Bardwell (he's not injured here), then he's on a knee waiting to see the formation UH comes to the line in, then he looks at the sideline, and then injury onset occurs. He was diagnosed with a seriously detached cleat.
GRAPHIC! The injury is so gruesome that the shoe completely comes off the player's foot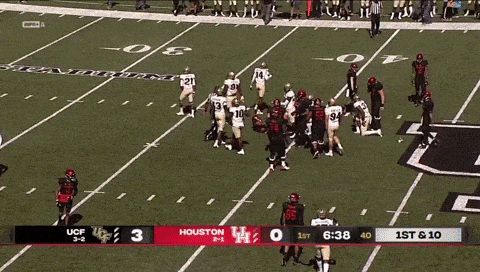 Here's the longer version for context:
https://media.giphy.com/media/6uimUiqRvmzed3Naw2/giphy.mp4

Morris-Brash loses his shoe and gets an official's timeout because of it. When his shoe is returned to him, an official walks up to say something and Morris-Brash laughs at him. He's caught.
Why was a stoppage of play was allowed for this injury? How is that not a delay of game? He's clearly not injured. Any other equipment issue and the player is expected to leave the field immediately.
UCF got away with this several other times and almost always after the Coogs had strung together 2-3 solid gains. In this case, UH had gained 36 yards in three plays before the scam. After this break for his teammates, UCF stopped the next play for a six-yard loss.
A quarter later, the same player had another questionable injury – this one giving his team a two-minute break in the middle of another UH drive.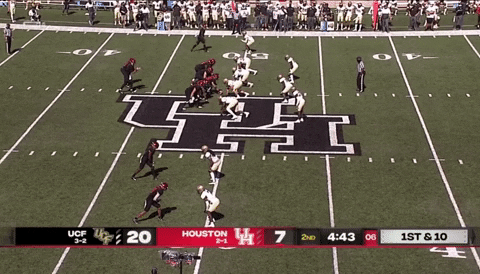 Miraculously, he was able to come back and play the rest of the game after these two devastating injuries.

Cheers!
To Laine Wilkins for a fantastic day punting – 6 kicks for 45 ypp. He booted another 53-yarder – his fourth punt of 50+ this year. He also hasn't allowed a return yard yet – his 42.1 net punt is 15th in the country.

Jeers
This was the worst play by the UH defense that I've seen in quite some time: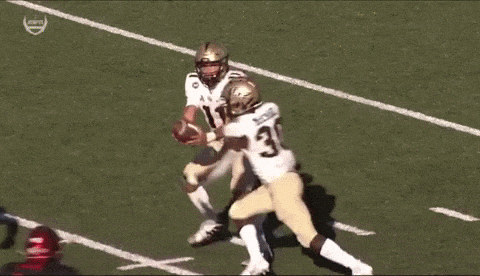 On 3rd and 18, The running back McCrae turned a would-be 4th and 19 (or worst case, a 4th and 8) into a killer first down by carrying Hypolite, Anderson, and the UH defense for 10 extra yards before he finally falls down. Stuard sets up before the sticks thinking he will help stop McCrae's momentum. Instead, he becomes just another guy getting pushed around.
It was one of six plays of 20 yards or more for UCF…in the 4th quarter!

Beers!
To each and every Cougar fan that sat through that game for 3.5 hours.
This is the content we usually reserve for GoCoogs subscribers. To get it all season long, become a member today!