Thursday night, former UH offensive lineman Justin Murphy went on Twitter to blast Dana Holgorsen and the UH football program. I shared my
initial thoughts
on Twitter last night but wanted to go through his tweets a little more to point out some things that don't add up.
My name is Justin Murphy. And according to sources I am no longer apart of the 2019 Houston Cougar Football Senior Class. A senior class that is the first group to experience a head coach and administration to actively tank a football season. (THREAD)

— Justin Murphy (@JMurphy_73) October 11, 2019
I have to admit: if you're looking to get attention, that's a helluva way to start. And it certainly sets the tone for the rest of the thread.

(2/2) After receiving a tick in the loss column, we would go on to play 4 games in 19 days. A schedule unprecedented.

— Justin Murphy (@JMurphy_73) October 11, 2019
Despite the record, we can all hope that the TV revenue produced in those four games was worth it. As for me at the age of 23 and 3 prior knee surgeries, it was the hardest thing as an athlete I've ever done.

— Justin Murphy (@JMurphy_73) October 11, 2019
As for the hardest thing Murphy has ever done, that's his opinion and I respect it. But 4 games in 19 days is not too different from what other schools have done. For example: ULM, South Alabama, ECU, & Temple have already completed a stretch of 4 games in 20 days.
UH was able to manage the 19 days somewhat because it came at the beginning of the season. ULM, South Alabama, and ECU had each played two games before their 20-day/4-game grind. Yes, 19 is different than 20 but not dramatically so.
As to all the "TV revenue produced in those four games" – UH scheduled the Sunday game vs. OU. That was a choice by Dana and school administrators but it didn't produce a dime more of revenue for UH. The AAC is in the last year of a TV contract that does not incentivize higher ratings (and the league has signed a new 12-year deal that ends in 2032). UH received exposure for the Sunday game – that's it.
As for the Thursday game in New Orleans: the conference and ESPN are responsible that. In addition, the Sunday opener and the Thursday ESPN game were known before Murphy chose to transfer to Houston.

I at least hope my time as a 4 game starter warrants the only guaranteed compensation I have, a single semester full athletic scholarship valuing at $14,686.71. pic.twitter.com/WalXheX3Or

— Justin Murphy (@JMurphy_73) October 11, 2019
This is so misleading. First, this isn't professional football and there's no such thing as guaranteed compensation.
Murphy acts as if this was the only "compensation" he's been given. But this is just one semester of on-the-books aid when he's been in college since 2014.
But even then, look at what he received: 3 stipends totaling over $7700 for the period of August 19-December 11 (academic semester).
That's just his living expenses this semester. Even though there is a stipend for food, UH takes care of his food. Like all other athletes, football players eat at the training table and get snacks throughout the day.
Murphy's tweet also fails to take into account the health insurance players get that includes paying fully for things like surgeries. Nor does it take into account the trainers, S&C coaching or the weight room, specialized academic/degree services, tutoring, Nike gear, nutritionist, dietician, financial management training, life skills, career development, and more.
So his $7700 stipend is just for rent for an apartment, which he likely splits with teammates, and commuting expenses (car/gas/parking tag).
Not a bad deal considering the stipend is more than the actual tuition.
And to be clear: I don't begrudge him the money – I'm glad UH has stepped up to give that to student-athletes. But when he complains about his only guaranteed compensation it's hard to take him seriously. Who in this world has guaranteed compensation? And he didn't transfer to UH (or to UCLA) to get a job.
Between 4 years at Texas Tech, a year at UCLA, and a semester at UH, that's approximately $206,000 just in tuition, fees, room, board, and cost of attendance.

The only other things I have left guaranteed as a result of my time in college football; a 4th and 5th knee surgery and undoubtedly a case of CTE.

— Justin Murphy (@JMurphy_73) October 11, 2019
UH will be paying for his medical expenses for surgeries for injuries sustained while playing for the school. So if Murphy needs one or more surgeries due to his time at UH, they will be taken care of. He's under the care of Dr. Walter Lowe, head of Orthopedic Surgery at Memorial Hermann. Dr. Lowe is a legend and was named the NFL's most outstanding team physician for 2018.
And paying for the medical expenses is "guaranteed compensation," too. When you add the healthcare, the rehab, the training table, the academic/tutoring component, the nutritionist, S&C, and everything else, that's well in excess of $300,000.
And again: I'm glad UH and other schools do this. But the story is a lot different when you look at $14,686 vs. $300,000.

Following the fourth game on 9/19/19 I would be advised to receive an MRI in order to proceed with further injections into my right knee, an injury ridden joint starting back to my first year starting at Texas Tech.

— Justin Murphy (@JMurphy_73) October 11, 2019
I would continue to go to work that week, participating in the full speed contact practices in preparation of the game. However, that Friday I was told to remain off the plane and stay in Houston in order to "heal up mentally and physically."

— Justin Murphy (@JMurphy_73) October 11, 2019
I wrote on Twitter last night that it's peculiar to get an MRI, and then a diagnosis of a torn medial meniscus, and go right back to "participating in the full speed contact practices."
And after he suffered through that week – the swelling, the pain, the injections – he was allegedly told (at the last minute) to not get on the plane so that he can heal? UH let him practice all week on a torn meniscus but he wasn't healthy enough to play?
Really?

Forcibly taking away one of the reasons why I came to this University in the first place. A suspension that came based on the logic that I was a distraction and not committed to the team.

— Justin Murphy (@JMurphy_73) October 11, 2019
Here's where Murphy loses me. He had the MRI, practiced all week, the staff wouldn't let him on the plane, but all of a sudden there's a suspension? It seems he left that part out.
The truth is, he was suspended well before trying to get on the plane. In the leadup to the UNT game, Murphy physically confronted a teammate during a workout. I have confirmed this with 3 different people inside the program. It is disingenuous to fail to mention that because it sure changes the story.
That Monday I learned that the Head Coach of the Houston Cougars football team had personally contacted several seniors and asked them if they would redshirt for the 2019 football season, in order to "develop" and come back in 2020.

— Justin Murphy (@JMurphy_73) October 11, 2019
Murphy's issue was the new redshirting practice. So why is he confronting teammates if he believes the coach is the responsible party?

In my circumstances I could no longer meet that criteria. I decided to focus on self-preservation rather than the win and losses. A common theme in the history of the 2019-20 Houston Cougar Football season.

— Justin Murphy (@JMurphy_73) October 11, 2019
His issue with King and Corbin and his issue with the head coach is that they chose future- and self-preservation over the team. And his response is to do the exact same thing! "I decided to focus on self-preservation" … well, my reaction can be summed up by a quote…

My reaction can be summed up by a quote I said earlier in the season, "I call bullshit when I see it." As a second time graduate transfer that was recruited to Houston on verbal confirmation that we intended to win now, Coach's actions in a lot of way's proved otherwise.

— Justin Murphy (@JMurphy_73) October 11, 2019
He quit.
And to deflect even more responsibility, Murphy shifts blame to the commitment level of the team:
As anyone who's participated in sports knows, playing through an injury that can progressively get worse takes a certain level of motivation within himself/herself, and a level of commitment from the team in which he/she plays for.

— Justin Murphy (@JMurphy_73) October 11, 2019
I've never heard of a player that needed the team to be committed for him to play through an injury. Does that mean that he didn't think Texas Tech and UCLA were committed?
UCLA worked to get Murphy another year of eligibility – which means they were committing $62,000+ more in "guaranteed compensation" – but he left as soon as he found out he was given another year.
Commitment goes both ways.

Safe to say there was no love lost between myself and the ole' head coach. Only reason I say this is because when I went to say my piece on the matter and to swallow my pride and thank him for this opportunity, I was met with a reaction I did not expect.

— Justin Murphy (@JMurphy_73) October 11, 2019
Say my piece and swallow my pride usually mean two distinctly different things. Murphy wanted to tell him off and then was going to swallow his pride? Does. not. compute.

Holgorsen sat at a desk, eyes glued to a monitor and replied with 13 words. "I don't have time to talk, I only have time to coach." and "O.K." As if I didn't deserve an eye to eye farewell or a proper handshake.

— Justin Murphy (@JMurphy_73) October 11, 2019
I'll give him the benefit of the doubt here: Dana can be … prickly. It's likely the coach would disagree with this but this statement is, at least, plausible.

As a person that is guaranteed a non-salary compensation of S3.4 million to go along with a $300,000 base salary for the 2019 year, one might think you'd have a better outlook on the players that contribute to your compensation. I mean this is a team sport, right?

— Justin Murphy (@JMurphy_73) October 11, 2019
the players that contribute…
By this point, that wasn't Murphy: he'd quit. I believe a coach should be cordial but this conveniently leaves out the part where he was no longer part of the program.

Murphy had every right to be upset about the sudden change in direction after the Tulane game. Every. Right.
But instead of being a good teammate, he became yet another distraction. He talked a lot in this thread about the seniors – 5 different mentions – but the reason we exalt seniors is due to leadership. Justin Murphy chose not to lead. Instead of stepping up to lead by example, Murphy chose confrontation. And then he chose to bail on his teammates.
GoCoogs Is The Content Cougar Fans Need
Get more Houston Cougar analysis, more film study, and more player insights when you become a member of GoCoogs.com!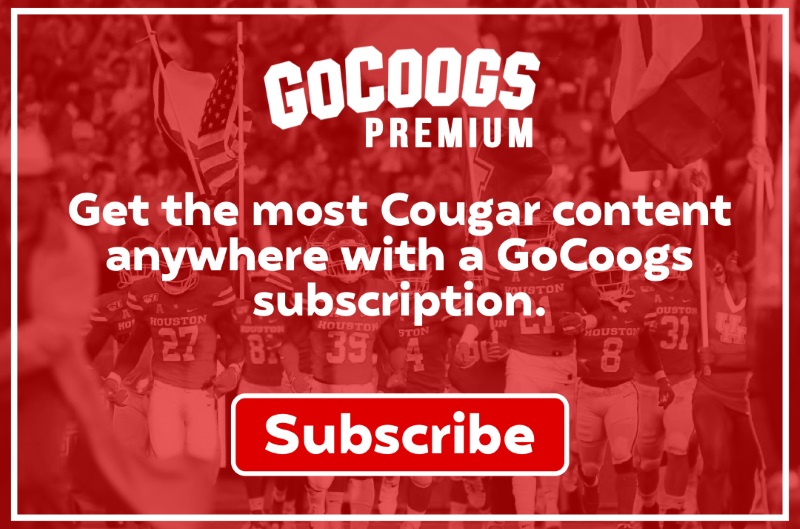 See All Subscription Benefits