GoCoogs Insider is a must-have for any serious UH fan. Insider features info, stats, film breakdown, a premium message board, and more that you can't get anywhere else.

Our subscribers get the best Cougar content, analysis, and discussion along with quality writing you won't get anywhere else.

GoCoogs Insider offers subscribers:

EXCLUSIVE CONTENT
Instant game reactions,
A subscriber mailbag different than any you've ever seen,
Unique interviews with coaches,
Vintage UH stories,
Challenge the assumption: an in-depth look at what we think we know,
Multi-part season previews,
Detailed season wrap-ups,
Spring football coverage,
And more.
STATS & MORE: GO BEYOND THE BOX SCORE
Our popular 'beyond the box score' series,
Film room breakdowns,
Deep statistical analysis,
Constant evaluation of UH teams, coaches and players,
Advanced photo galleries,
Subscriber-only video, and
Detailed 'By The Numbers' analytics.
The Veer: The Best Cougar Discussion
GoCoogs Insider is the fastest-growing Cougar Community online. Our new message board, The Veer, is the place to go for intelligent, high-level discussion with smart and thoughtful UH fans. This private forum is available only to GoCoogs Insiders.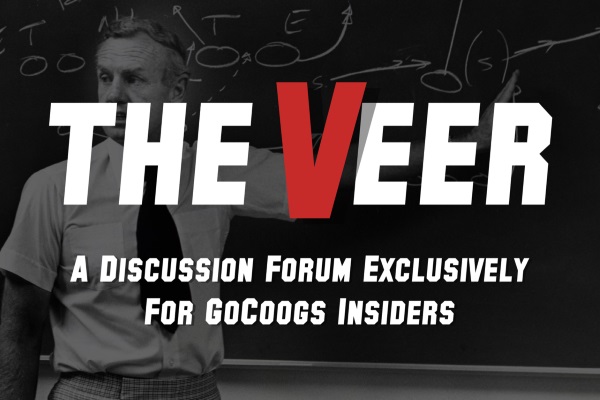 Join UH coaches, UH administrators, and other Coog fans and become a GoCoogs Insider. We have two main subscription options – pay monthly or annually:
$8.99 per month
$79.99 per year
We also have two great options for UH students & staff: a discounted monthly ($3.99/month) or annual ($29.99) subscription. These plans are only valid when subscribing with a @uh.edu e-mail address.1We reserve the right to validate if students and staff are currently enrolled or employed at UH.
Students & Staff Monthly – $3.99
Students & Staff Annually – $29.99
For those wanting to help ensure the long term success of GoCoogs.com and to subsidize student memberships, we have created a Super Supporter level.2Super Supporter does not convey any additional benefits. It is a way for those that have the means to support the site a bit more.
We also encourage Cougar fans to give GoCoogs Insider as a gift! Gift subscriptions can be purchased any time and delivered on the day you choose.
Click here to read more about GoCoogs Insider and the value we provide.


Share This Content With Other Coogs!