Summary

Kendal Briles has transformed the UH offense.
The Coogs ranks at or near the top of the nation in most offensive categories through 4 games. 
The difference is staggering.

Everyone that's paying attention to UH football knows the offense looks nothing like the mess we saw in 2017. But when it's directly compared to last season it looks even more ridiculous.

Major Applewhite's hire of Kendal Briles will go down as the best personnel decision he ever made at Houston. It also shows how bad of a hire he made last year when he brought in Brian Johnson.

Here's a look at how the 2018 offense stacks up across the nation as well as against the 2017 Coogs:
Scoring
The Cougars have scored 209 points in the first 4 games this season. It took until the 4th quarter of the 8th game last year to get to 209 points.

UH scored 101 points in the first 4 games last season.

Against the 3 opponents that have repeated from 2017 (Rice, Arizona, and Texas Tech) UH scored 81 points last year – just 27 points per game. In 2018, against those 3 teams, the Coogs have scored 139 points (46.3 ppg).

At 52.3 ppg, UH is 4th nationally in scoring behind Penn State, Ohio State, and Alabama. All 3 are in the AP top 10.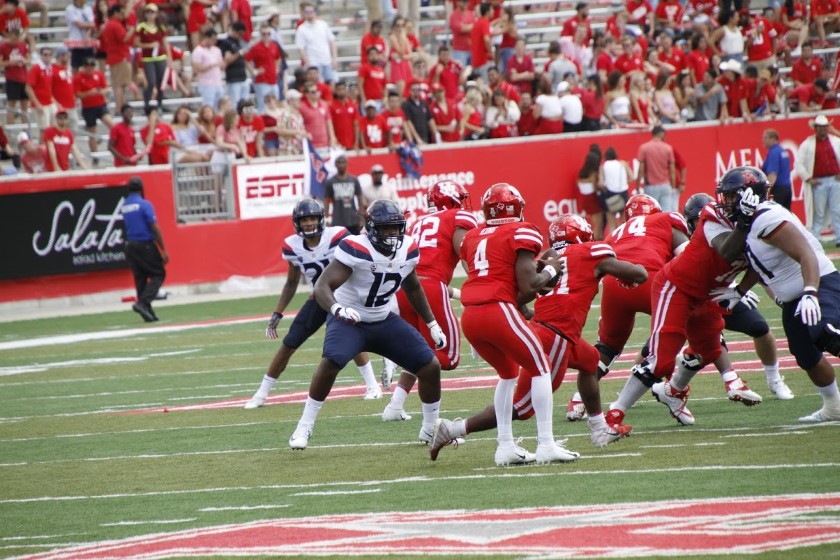 Yardage & Touchdowns
UH has had 550+ yards of offense in all 4 games this season. The Coogs are the only team in the country to accomplish this feat.

UH is 2nd nationally in total offense averaging 608.5 yards per game. UH averaged 422 ypg last season.

The 2018 Cougars are 7th in passing offense (355.5) and 16th in rushing offense (253). UH is 8th in first downs this season with 115.

Through 4 games, UH has 2434 total yards. It took 6 games to accomplish that total last year.

The Cougars have rushed for 1012 yards in 4 games on 157 carries (6.44 ypc). The yardage is over half of what UH achieved in 2017 (2002 yards) in 12 games and on 446 attempts (4.49 ypc).

UH had 25 rush TDs last season and have 12 through 4 games this season. The Coogs had 6 rush TDs through 4 games last year.

In 2017, UH QBs threw for 3156 yards on 281 completions (11.23 ypc). In 2018, we are at 1422 yards on 101 completions (14.1 ypc). UH is on pace to throw for over 1000 yards more in 12 games than in 2017.

UH has already thrown for more TD passes (17) than the team did in 12 games last year (16). UH had 6 passing TDs in the first 4 games last season. UH had 5 interceptions last year in 4 games (12 total) while the 2018 team didn't throw an INT until the 3rd quarter of the 4th game.
Stacking Up Nationally
Here's how the UH offense looks in the national rankings compared to 2017.




Everything Kendal Briles has touched this season has turned to gold. It makes you wonder what Applewhite was doing a year ago when he hired Brian Johnson and allowed the implementation of such a terrible offense.

#GoCoogs

Subscribe to posts like this
Get all GoCoogs.com stories in your inbox.
[email-subscribers namefield="YES" desc="" group="Public"]

Official Cougar Gear From Fanatics