On this day 65 years ago, the Houston Cougars beat Texas A&M, 10-7, for the school's first win in the series. The Aggies had won in 1952 and the teams tied in College Station in 1953.
UH was led by head coach Clyde Lee while Bear Bryant was in his first season at A&M after coming from Kentucky. When Lee came to Houston seven years earlier, the Coogs had just 100 season ticket holders. In 1954, the school would have over 10,000.
A week before the game, the Aggies had won at Georgia and came into the game at Rice Stadium with confidence. Meanwhile, The Cougars had suffered the worst loss in the school's short history, losing 53-13 to Baylor.
UH and A&M were scoreless until Houston mounted a 73-yard scoring drive midway into the 2nd quarter. Cougar QB Jimmy Dickey threw an 8-yard TD pass to Ronnie Emberg to take the lead, 7-0. It would hold through the half.
The Aggies took the second-half kickoff and drove down the field, scoring on a QB sneak. The teams traded punts until late in the game when UH drove deep into Aggie territory. Offensive guard Verle Cray kicked an 11-yard field goal (you read that correctly) with 4+ minutes to play to go up 10-7.
The Aggies made a final push to get inside UH's ten-yard line. The Aggie QB ran to inside the one-yard line with time running down. But as he got up to attempt a game-winning play, an Aggie lineman inexplicably chucked the ball into the end zone. The clock ran out before the ball could be set again and the Cougars escaped with their first-ever win over the Aggies.
Asked if he regretted not kicking a field goal, Bear Bryant said, "I'm not interested in ties. I wanted to win. A tie is like kissing your sister."
Box Score: Cougars 10 – Aggies 7
| | UH | A&M |
| --- | --- | --- |
| 1st Downs | 15 | 12 |
| Rush Yards | 254 | 233 |
| Pass Yards | 21 | 35 |
| Comp/Att/INT | 5/8/0 | 2/8/1 |
| Punts/Avg | 3/23 | 4/38.5 |
| Fumbles Lost | 1 | 0 |
| Penalty Yards | 26 | 40 |
The Aggies claim that they have not lost to a non-conference team from Texas since the UH game in 1954. Which, of course, is patently false.
The Cougars continued to play the Aggies in non-conference games every year until 1965. In that span, the Aggies never beat UH in Houston, tying in 1956 (when A&M was ranked 9th), then losing to the Cougars in 1958, 60, 62, and 64.
That Houston domination continued when UH joined the SWC: the Cougars won in the city in 76, 78, 80, 82, and 84.
Coach Lee would retire after the 1954 season due to poor health. In his seven seasons, he brought the school its first conference championship (MVC in 1952), first bowl game (1951 Salad Bowl), and first wins over SWC teams (Arkansas, Baylor twice, A&M).
Clyde Lee was a UH season ticket holder for many years after retiring from the school.

Thank You For Reading!
LAST DAY! GoCoogs has lowered our subscription price until Wednesday, October 9th. Right now, an annual membership to GoCoogs is just $59.99. That's $30 our regular price! Subscribe now!
Get more Houston Cougar analysis, more film study, and more player insights when you become a member of GoCoogs.com!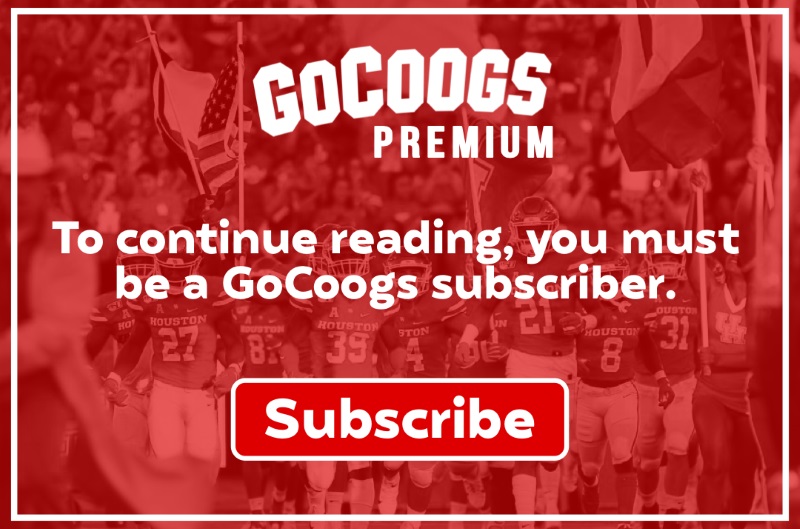 See All Subscription Benefits
After your first year, your subscription renews at the regular rate available at that time.