For the first part of this series, read Student Managers Are An Integral Part Of Houston Hoops

While practice days can be a grind for Houston Cougar Men's Basketball student managers, game days are a circus and require even more sharpness. Those days, particularly for road games, are a stressed-out scramble of pre-game preparations and anticipation, coordinating with the other team's managers, and hurrying up just to end up waiting.
Managers' gameday responsibilities include getting the locker room set up, making sure players' uniforms and their individual gear is ready, confirming that everyone has the Jordan Brand shoes of their choice, mopping the court floor, and ensuring Kelvin Sampson has everything he needs. Sampson's needs range from stocking different types of gum in his Dubble Bubble bucket, having his timeout stools and multiple dry-erase boards ready (in case of anger), and anything else that allows him to focus solely on basketball.
Managers also help get tickets sorted out for players' and coaches' families, a feat made more complicated when a player returns to his hometown and needs more than the four allotted by the NCAA. Managers help players barter with teammates to get all the tickets necessary. Against Tulane, New Orleans local Ja'Vier Francis expects more than 60 family members to attend.
Depending on the venue and circumstance, a few managers set up the locker room the day before a game while the team (and the rest of the managers) goes to shoot around. In rare cases, when a locker room isn't available until the game, they'll set up while the team shoots around the day of the game. When managers have to set up the day of the game, the packed day gets a little tighter.
Once everything is set and players have dressed, pre-game is actually the most frenetic part of the day. Managers ensure the operation runs smoothly and that players' and coaches' routines aren't interrupted as basketballs bounce and fly around, all the while being depended on to bring excitement and intensity.
"The pre-game warmup is intense. We've got to have great energy because our guys feed off of it," said fourth-year manager Laith Akhras. "They want us to push them as well. It's intense because there's a lot going on, and a lot of people trying to get their shots up."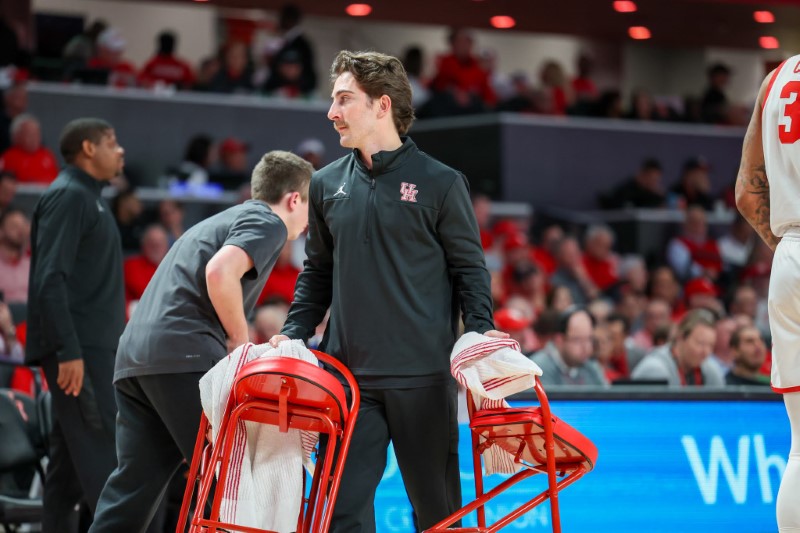 It is common for the players and managers to spend time together outside of basketball, whether it's the players asking for rides, getting meals together, or hanging out in the players' hotel rooms on road trips. On those trips, judging by the interactions (and not the height), you could not tell who is the unpaid student worker and who plays for the #1 team in the country.
"You wouldn't even know that they're basketball players," head manager Jonathan Loredo said. "That's the fun part: the time you get to spend with them."
Veteran leaders such as Jamal Shead, J'Wan Roberts, and Marcus Sasser seem to be the most popular with the current managers. Manager Matthew Criswell noted that he feels closest to fellow sophomore Ja'Vier Francis, having come into the program at the same time. Akhras was close to Quentin Grimes in his two years playing at Houston.
The time spent together helps build a strong rapport and makes the on-court success of individual players so much more enjoyable for the managers.
"It feels like we see these guys grow up," Loredo said in a recent interview. "We see all the behind-the-scenes that lead up to a Jarace Walker scoring 23."
Spending thousands of hours with the players, staff, and coaches helps form strong bonds between everyone in the program. Being part of building and maintaining a winning culture naturally leads the managers to become more emotionally invested in this UH team.
"The coaches, the players, they all make us feel like we're family," Akhras said. "They support us, and we support them, and they're just all great to be around, and that's what makes it enjoyable to come in every day."
Like everything else in the sport, the bonds between players and managers rachets up during Tournament time.
"March Madness is different. You never took a moment for granted because you never knew when your last game would be." Loredo said. "I wish we got to spend more time with those guys."
Even though Akhras was with the team during its 2021 Final Four run, he was especially proud of last season's Elite Eight run, when the Cougars exceeded expectations without Sasser or Tramon Mark. He relished being the underdog and the Cougars proving the doubters wrong.
"You see that people don't want us to win and it's fun being on the other side of that," Akhras said. "All that matters is what we think and what we believe, and it showed when we beat Illinois and beat Arizona and UAB as well. They doubted us against all those teams."
When the season ended against Villanova, however, the loss was just as painful for the managers. Criswell said he and the other managers shared the players' pain.
"It was a heartbreaker. I mean you just wanted to win so badly," Criswell said. "I wanted to see the guys on the team do well because you form relationships with those guys so you want to see them do well too."