In the first game of 1989, the Fighting Bees of St. Ambrose College won their opener over St. Thomas of Minnesota. It was an unremarkable game that has been largely forgotten by history. Except for one little nugget: it was Dana Holgorsen's first game as a college freshman.
Thirty miles away, Hal Mumme had been hired as the new football coach at Iowa Wesleyan that winter. The small, 600-student college is in Mount Pleasant, Dana's hometown. Mumme hired an off-the-wall eccentric named Mike Leach to be his offensive coordinator.
Near the end of the school year, Mumme and Leach made the three-mile trek to Mount Pleasant Community High School to inquire about the school's best receiver, Dana Holgorsen. But Holgorsen wasn't interested in going to Wesleyan and rejected the duo, still planning to play at St. Ambrose in Davenport. It was important for Dana to get out of tiny Mount Pleasant (population 8500). Little did he know that fate would intervene and change his life.
In Davenport, there was friction from the start: St. Ambrose wanted him to play both ways. The 5'10" Holgorsen chafed at the idea: he was a wide receiver, and just because his older brother Brett had been a DB at Ambrose didn't mean he needed to be one, too. Brett is now on staff at UH as a strength and conditioning coach.
Holgorsen continued to keep track of the happenings at Iowa Wesleyan. He was not convinced that Mumme would come in and throw it all over. For years, Wesleyan had run the single-wing, an offense where everyone is lined up tight, and the QB "runs like hell," as Leach would later put it.
Iowa Wesleyan wasn't very good at the single-wing, either: in 1988, the year before Mumme arrived, the team scored 7.6 points per game while going 0-10. In 1989, Mumme led Wesleyan to a 7-4 record while scoring over 40 ppg.
Holgorsen realized his mistake and decided he wanted to be a part of that offense. So that winter, he would transfer to IWU and play WR for the goofy offensive coordinator.
The Odd Couple: Mike Leach & Dana Holgorsen
In the spring of 1989, Mike Leach coached a club team in Pori, Finland, in the American Football Association of Finland. He returned to the U.S. to attend spring practice at his alma mater, BYU. Leach loved talking ball with Cougars head coach Lavell Edwards.
On that trip to Provo, he met Hal Mumme, who had just accepted the head coaching job at Iowa Wesleyan. After getting acquainted for a few days and talking football, Mumme asked Leach to be his OC and OL coach.
In May of 1989, Leach arrived on the Iowa Wesleyan campus to begin his new job. At the same time, Holgorsen was about to graduate from Mount Pleasant High School.
"He's a unique guy," Dana said on Monday. "I was like, 'who's that funny-looking guy in the corner with sweatpants and a sweatshirt and his hair going everywhere? It's just the genius, Mike Leach."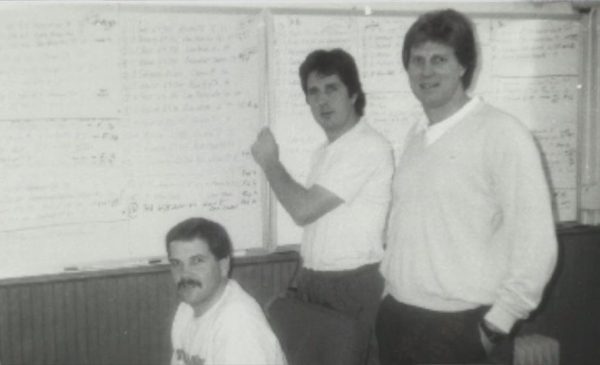 Once Leach was in Mount Pleasant, he and Mumme talked offensive schemes non-stop. They would draw up plays anywhere they could: often, it was on a napkin while they drank coffee at Dickey's Prairie Home, just down the road from the IWU football offices.
Other times, they would be in Leach's office, next to the boiler room in the basement of the campus gymnasium. It was an office that Mumme laughingly recalls had "steam pipes running over the top of his desk" and was so cramped that Leach couldn't even stand up.
Sometimes they'd be designing plays in the car as they traveled the country to study other offenses. Mumme and Leach would take ideas from anywhere: they learned the tunnel screen from the Sacramento Surge, a now-defunct CFL team. They got crossing routes from Edwards at BYU. And they learned the two-minute offense from Don Matthews' Bandit Drill. Matthews was a five-time Grey Cup winner and a CFL Hall of Famer.
The tunnel screen forced defensive linemen to change direction and chase the ball, wearing them out. Crossing routes made defenders hesitate, which Leach calls "disruptive" to the defense. And the two-minute made it impossible for defenses to sub out, giving the NAIA school a substantial advantage in 1989. They wanted formations that opposing players had never seen before and to do at a pace they couldn't keep up with.
"If you wanna screw with the defense, screw with formations, not plays," Leach wrote in Swing Your Sword.
But the play calls from the receiver Holgorsen surprised Mumme the most. First, Holgorsen would pester Leach and Mumme to put him in the game. But when Holgorsen would be taken out of games to be replaced by faster receivers, he passive-aggressively stood next to Mumme and barked out play calls based on the defense he saw.
"It usually worked," Mumme told Bruce Feldman in 2011. "He was a very heady player. He was like a coach on the field."
Holgorsen had started calling plays in high school, convincing Mount Pleasant Community's head coach Bob Evans to open up the offense in 1988. Demanding he opens it up. Frustrated after falling behind a rival, Dana came to the sideline and pleaded with his coach: "Are we ever going to throw the ball?"
Evans relented, and Holgorsen caught a TD late to bring the Panthers within a score. Dana wanted short, quick-hitting passes. He begged for bubble screens before Tyron Carrier turned a year old.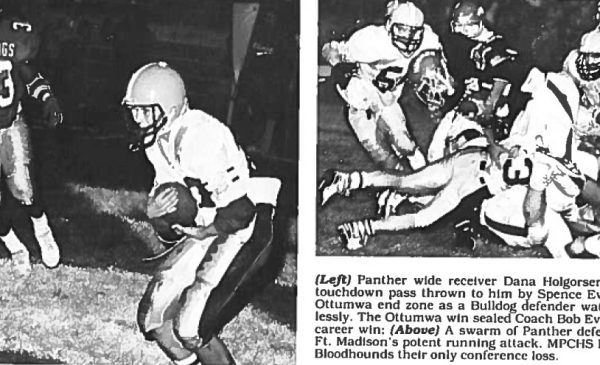 "He really understood the offense and what they were doing, which was kind of unusual because nobody around here had seen it before," Mount Pleasant radio station owner John Kuhens said. "He had coaching abilities, you could tell, at a very early age."
But Holgorsen is anything but sentimental about his time at Mount Pleasant Community.
"It was bad football," Holgorsen told Feldman. "It was a bunch of slow little white kids running around."
Dana quickly learned that he had found kindred spirits in Mumme and Leach. The coaches were constantly toying with their offense and always looking for the edge. But, unfortunately, Iowa Wesleyan didn't attract top-notch talent – they needed superior schemes to win games.
After two years of tinkering with the concepts, Mumme and Leach were ready to implement their ideas for the first time. So, on August 31, 1991, 18 months after Dana transferred in, Wesleyan debuted the Air Raid offense.
In his book The Perfect Pass, historian S.C. Gwynne claims that the night "revolutionized American football at every level."
That night set in motion the offense that has changed college football for over 30 years.
Iowa Wesleyan went 10-2 that season, the most wins in the (then) 100-year history of the school's football program. Mumme went 24-11 in three seasons – the same number of wins as the previous six years combined.
In fact, in the previous 40 years, Wesleyan had won three or fewer games 21 times. Mumme, Leach, and the Air Raid had been a revelation.
Holgorsen would catch 145 balls in three seasons at Wesleyan, still good for sixth in career receptions. But more importantly, his football identity had been born.
Dana began to understand that Wesleyan had cracked the code. He realized that offenses hadn't attacked the entire field. In Mumme's first season, before Dana's transfer, Leach implemented the wide OL splits that have become synonymous with the Air Raid. The three-foot gaps allowed Wesleyan to stretch the defense in ways that had never been possible.
"We were changing the geometry of the game," Leach wrote.
Holgorsen devoured every aspect of the offense. The player that The Wall Street Journal described as the "mulleted wide receiver named Dana Holgorsen" was all-in on Leach's offense.
"You'd be hard-pressed to find two people whose philosophies are more closely aligned than us," Leach wrote in Swing Your Sword. Since then, Holgorsen's offense has evolved while Leach continues with those early principles of the Air Raid.
"Our notion of balance," Leach told Michael Lewis in the New York Times, "is that the five guys who catch the ball all gain 1,000 yards in the season."
"There's nothing balanced about the 50 percent run, 50 percent pass because that's 50 percent stupid," Leach said in a press conference last year.
"Mike's been doing the same stuff forever and ever," Dana said in a press avail in 2019. "It's one thing that's admirable about him is, as much as people have evolved, he's pretty much just continued to do the same stuff," Holgorsen said Monday.
Mumme was hired away from Iowa Wesleyan after the 1991 season. Leach followed him to Valdosta State in southern Georgia, and after graduating in 1993, Holgorsen joined them as a grad assistant. Over the next 15 years, Holgorsen would work either for one or the other and, finally, branch out on his own, thanks to their recommendations.
When Leach took the Texas Tech job, he brought Holgorsen onto his staff, and by the time the season started, Holgorsen was a full-time assistant. In Leach's first year, a walk-on quarterback named Lincoln Riley was on the scout team but retired to become a student assistant. He went to work for Dana, helping out with the inside receivers.
Holgorsen stayed with Leach until 2008, when he left to be the OC at Houston. He brought in a GA that had played a little quarterback for Tech named Kliff Kingsbury. The pair would add motion and an even faster tempo to the Air Raid. They also added a run game; something Mumme acknowledges he could never figure out.
That's how the Mumme/Leach/Holgorsen tree has grown. Water it here, add an intelligent GA here, and the seeds of the Air Raid over there. The names go on, and the connections to UH are endless. On that Friday night at NRG, two of Mumme's first devotees met for the first time as head coaches. Dana's brilliance in 2009 as offensive coordinator bested Leach at Robertson, the only time they've faced each other.