Let's dive deeper into the 3rd quarter at SMU:

For any chance to win this game, UH had to dominate the 3rd quarter. Instead, we lost it, 7-3.

SMU came out of the half without any real mission other than to run clock. UH fans can point to the 3rd quarter as a lot of "wins" for the defense but was it really? SMU's first three drives were 3&Os for a combined 0 yards but they ran 5:34 off the clock in those drives. They eliminated 15% of the half by doing nothing.

Meanwhile, the 3rd was UH's best in terms of TOP but a disaster in terms of getting back in the game. In 3 completed drives in the quarter, UH had a fumble, a punt, and a FG. Those 3 drives took over half the 3rd but resulted in just 3 points. UH ran 19 plays in those 3 drives but only attempted two passes (King was also sacked twice).

The Coogs didn't accomplish much in the quarter: 24 plays. 98 yards. 3 points.

In all, UH had the ball over 9.5 minutes and saw the deficit increase. The offense's killer instinct was gone. We looked lost. We were scared to go too fast. And we refused to play our game.

Here are the game stats at halftime.

WARNING! Possibly Disturbing Material Ahead: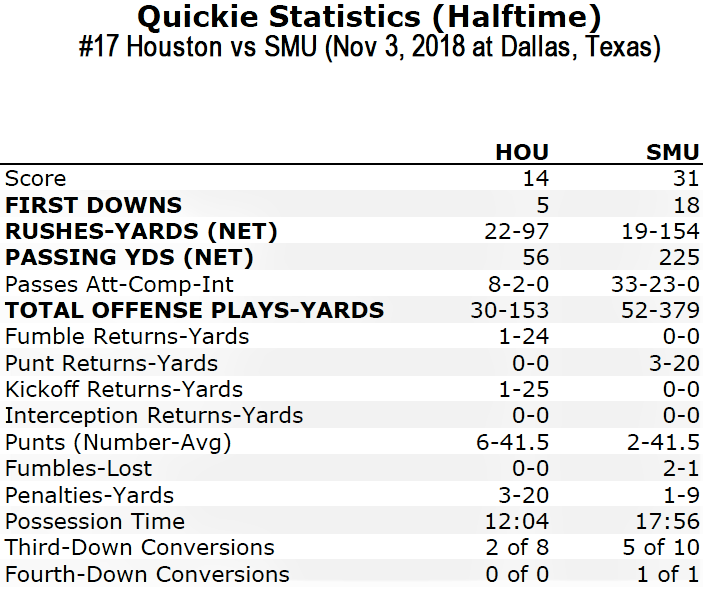 And here they are after the 3rd quarter. Lot of plays, lot of TOP but not much to show for it.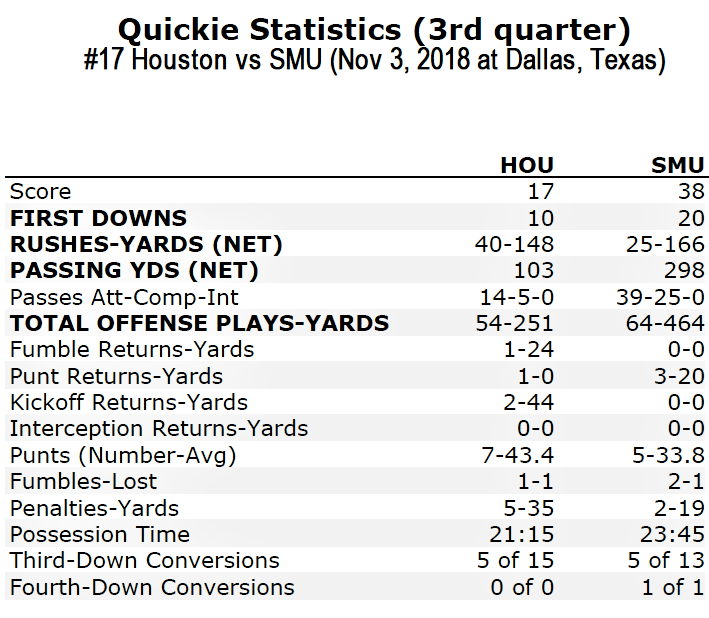 For a time, after the two sacks on D'Eriq, Major and Kendal abandoned any pretense of trying to win the game and were just burning clock themselves. UH ran the ball on 12 of the next 13 plays — the one pass being a 3rd and 6 to the seam (remember, those were open all day against SMU's defense).

On a great majority of our snaps, King allowed the play clock to get under 25 seconds – not what you'd expect in that situation. UH averaged 23 seconds per snap in the quarter – an eternity in an hurry-up. Compare that to the 16 seconds per play we took in the other loss this season (at Tech – 92 plays on 24:22 TOP).

And if you take out the 4 plays to start drives (when the play clock isn't running), UH averaged 28 seconds per play in the SMU game. Positively unlike who we are.
What did you think of this story?
[ratings]

A note to our readers:
We have made this By The Numbers article free today but most of articles are subscriber-only. Some of our articles are free in order to show the value of a GoCoogs Insider subscription.
You can subscribe to GoCoogs Insider and get premium content just like this as well as in-depth analytics and our subscriber-only message board. Be a part of the fastest-growing Cougar Community and join GoCoogs Insider.
You can read more about GoCoogs Insider or subscribe below.


Choose Your Membership Plan:
#GoCoogs