The dos Coogs discuss Houston's gritty win over #14 Texas Tech Sunday afternoon.
What was the defining moment of this game?
Brad Towns, Former UH Athlete – This right here: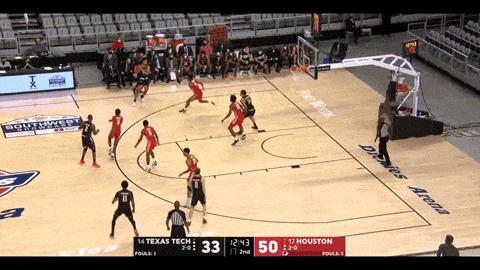 This play showed what UH basketball is all about.  Everyone on the floor did their job.  Total team defense with all passing lanes closed down, Gresham with a great block and outlet pass with everyone getting out on the break. Then Jarreau found Sasser for our last FG of the game. 
Even with shots not falling everyone continued to do their job and gutted out a double-digit win against a legit Sweet 16-caliber team.

Ryan Monceaux – This might sound weird but I think it was Justin Gorham's three-pointer early on. Gorham is the juice on this team and does the dirty work away from the ball to make everyone else successful.
Gorham said something in the postgame that stuck with me:
"Coach Sampson just wants me to bring the energy. My role is to come in, compete, play hard. The whole program has faith in me."
The whole program has faith in me. That's not something you hear from guys that aren't go-to scorers. Their faith has become his confidence.
To be honest, I thought it was odd that Gorham started against Lamar – I just didn't see why. But Kelvin Sampson saw it. He didn't start because he was one of the top five scorers. Kelvin started him because he knew Gorham would be a cog in a win over Tech.

Late in the game the offense stalled. Thoughts? How big of a concern is it?
Monceaux – I'd say it's an issue and will definitely be the focus of the next six days. To me, the most important thing about the South Carolina game is how this team finishes in the final 10 minutes.
But there are a couple of caveats: this team was playing their 3rd game in 5 days and Sampson admitted that the team "went full-blast from 4:30 to 6." Perhaps they didn't have their legs fully. And losing Caleb Mills for an entire half is a big deal. He should be good to go for the Gamecocks.
But Kelvin said something in the postgame that makes a lot of sense: "It doesn't matter if you get a field goal if you hit free throws? What's the difference?"
"The object of the game is to score whether it's at the free-throw line or getting baskets."
You'd love to see your team hit clutch shots but if they are drawing contact and making the free throws, it counts the same.
Towns – I am not a fan of changing the offense late in the game.  I understand we want to run some clock with a big lead, but I do not like getting out of the offensive flow that built that lead. 
We go from a lot of movement and passing looking for a good shot to spreading the floor and going 1-on-1 with the shot clock winding down.  I feel like we lose our edge in those sets.  That being said, I am not really concerned right now.  This team looked like they were waiting for someone to step up and make a big shot. 
The guy who fills that role is Mills and he was being held out as a precaution and Cameron Tyson didn't play.