Some days, a pitcher can have a monster game and little to show for it. Through 2 games, it's happened to Friday night starter Trey Cumbie twice. Cumbie has been the most dominant pitcher in the country in the first 8 days of the season but hasn't gotten a decision yet.
Season Opener: Holy Cross
On opening night, Cumbie gave up a hard-hit single to center on the first pitch of the season. After retiring the next hitter, Holy Cross 3rd baseman Alex Volpi hit a sky high ball to left that carried out of the park for a 2-run homerun. Trey was in the weeds right out of the gate.
But the struggles didn't last. Cumbie settled down and controlled the game until he was pulled. After the first inning homer, he went 5.0 innings, giving up 1 hit and striking out 12. Think about that: 12 of the last 15 outs Cumbie recorded were strikeouts.
How dominant was Cumbie? At one point, nine-straight outs were Ks. 9 out of 10 at-bats were Ks (one single). 12 of 13 outs were Ks. Unfortunately, Cumbie reached his pitch count in the 6th inning with the Coogs tied 2-2 and didn't earn a decision. Life ain't fair.
Think about that: 12 of the last 15 outs Cumbie recorded were strikeouts.
For his effort, Trey was named Collegiate Baseball's National Pitcher of the Week. It's rare to see a national pitcher award go to a guy whose team just lost. But that's how commanding Cumbie was in the opener.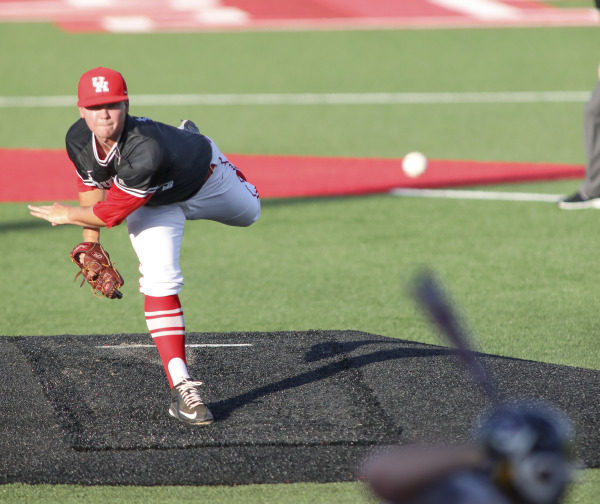 Week Two: Cal State-Fullerton
Friday night in Fullerton, Cumbie semi-mirrored the Holy Cross start. He gave up a single on the first pitch of the game again and after getting the first out, he hit a batter. Two of the first 3 guys reached base – just like Holy Cross. This time, though, Cumbie didn't allow a run as he settled down and started dealing.
Cumbie tore through the CS-F lineup with ease. But just like Holy Cross, he came to his pitch count while  in control of a tie game. Cumbie struck out the first two hitters of the 7th inning before being lifted for Henry. The starter's final line: 6.2 IP, 1 hit, no walks, and 10 strikeouts. Just like his first start, Trey didn't get a decision this week, either.
Since the first 3 hitters of the opener, Cumbie has gone 11.2 innings, given up 2 hits, no runs, and struck out 22. Batters have hit just .050 against him in that span. He's recorded 36 outs on the season – 22 of them have been by strikeout (61%).
UH has lost both of Cumbie's starts and are 2-2 on the year. The Preseason All-American and AAC Pitcher of the Year needs a few runs behind him. Otherwise, it's going to be a frustrating year on Friday night.
#GoCoogs

[TheChamp-FB-Comments]