No one else is going to say it, so I am here to champion him. For The Brand!
Dalton Witherspoon was the single most important person in winning the Navy game. Yes, the defensive line played incredibly well against one of the most rush-dominant programs of the last quarter-century. And Marquez had a great bounce-back game as well.
But Navy's game script looks a whole lot different if UH does not get those crucial 9 points off Dalton's field goals early in the game. The Midshipmen are a completely different team playing with the lead as opposed to playing from behind.
3 crucial first-half field goals
Let's start with Dalton's first kick. Nothing sexy about it (compared to the others) but this is a confidence builder for the entire UH offense in a road conference game. Playing against a time-of-possession team like Navy, each possession is more critical. The UH offense puts together a 13-play drive after starting at midfield but stalled in the red zone, running six plays inside the 20 for four net yards. But here comes the trusted kicker to put the first points on the board for the Coogs.
Navy scores on the subsequent drive and UH comes back with an 11-play drive that peters out at the 36-yard line. This could be the turning point in the game for UH, having just given up points and following it by coming up empty on a long drive. Dane Roy talked about getting points on the board to boost the team's confidence and he's right. He's also right about putting pressure on the scoreboard – you can't fall behind these guys and give the ball back in prime field position. But Dalton took care of all of those problems.
Dana's confidence in Dalton never wavered and he sends the kicker out for the longest attempt of his career, a 53-yarder. UH had only attempted one kick of 50+ yards since my senior year in 2012 (Kyle Bullard made a 51-yarder in 2014) and Dalton's career-long make was 46-yards. This was a lot of confidence.
Witherspoon calmly lines up like it is any other kick. As we say, all kicks are created equal. Dalton calmly approaches the ball and swings with a little extra power to ensure it has the distance.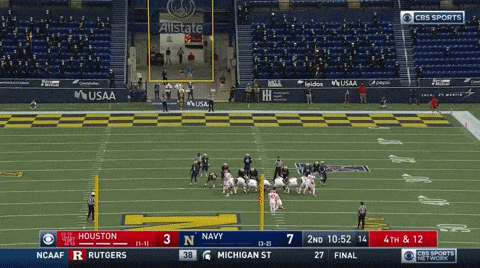 This kick was driven a slight bit more which means it didn't hit the apex like some of his other kicks. Driven kicks come out with a higher velocity and travel further but have a greater potential of being blocked. The kick draws perfectly from the right hash through the center of the uprights. Bam! UH just answered Navy's touchdown and Witherspoon ties Roman Anderson and Dustin Bell for the longest FG in school history.
Feeding off that momentum, UH forces a quick 3-and-out and then puts together another drive. But after a holding penalty, Clayton Tune faces a 3rd-and-17 before hitting a crossing Marquez Stevenson underneath for 11. As soon as he catches it, Marquez heads upfield between the hashes to give Dalton a straighter, easier kick.
Witherspoon comes out to line up for the kick from 45 yards out, this time just outside the left upright. Witherspoon is unfazed by his career-long earlier and drills it like it's any other normal kick. This one is right down the middle to give UH the lead again.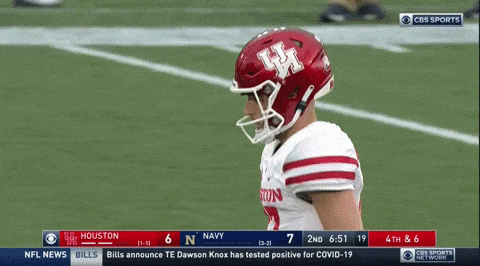 On this one, Dalton had a smoother swing and follow-through than on the 53-yarder; it looks more like the traditional ball that Witherspoon hits. This had a higher apex and the flight path was on a straight light with no deviation.
If Witherspoon had not scored UH's first 9 points then this could be a completely different ball game in the 2nd half. Dana has shown that he trusts Witherspoon with almost any kick and will utilize him to pick-up the offense when it's needed. Against UCF this week, the Cougars have to convert on 3rd down (or 4th down if Dana's chart says go for it) but if they don't, having a weapon like Dalton's leg could be pivotal.