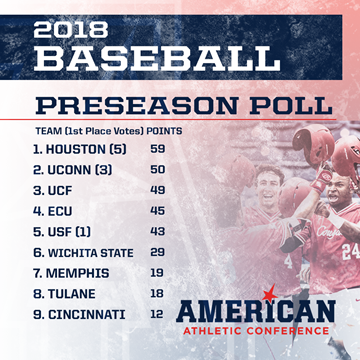 Cougar baseball coach Todd Whitting's 2018 team has been picked to win the 2018 American Athletic regular season title. To do it, the Coogs will have to overcome monumental changes in the field, on the mound, and in the dugout.
Despite coming up short against the Aggies in the regional final, the 2017 season was a success. The Coogs shared the regular season AAC title, won the conference tournament, and hosted a sold-out regional. UH finished 42-21 (15-9 AAC) and was a #1 seed for just the fourth time in school history.
But the Cougars will lose much of the talent that propelled last year's squad. Gone are line-up stalwarts like Connor Wong and Corey Julks. Pitcher John King, 2nd on tlast year's squad with 8 wins, has departed and another starter, Mitch Ullom, will miss the upcoming season due to labrum surgery.
Coogs Lose Triple Crown Winner
Perhaps the biggest loss is Jake Scheiner, a consensus All-American that won the AAC triple crown (.346 avg., 64 RBI, 18 HR). Scheiner also won American Player of the Year, American Championship Most Outstanding Player, and a was member of the American All-Academic Team.
Combined, Houston will lose 2/3 of the team's homers as well as 19 of 42 wins.
Whitting also lost his top 2 assistants, Frank Anderson and Trip Couch. Anderson decamped to Tennessee while Couch left for South Carolina. Both are significant losses for the program. In their place, Todd hired former UCF head coach Terry Rooney (most recently an assistant with Alabama) as the new pitching coach and promoted Ryan Shotzberger to the other coaching position.
Even with the departures, expectations are high for Cougar Baseball. I believe this team will make a regional and probably contend for another conference title. Developing the pitching depth to get through the conference tourney and postseason play will be critical.
GoCoogs.com Baseball Preview:
Monday: Baseball Sees Big Changes Ahead of 2018 Season
Tuesday: A Look Back At The 2017 Baseball Season
Wednesday: Analyzing The 2018 Baseball Schedule
Thursday: Previewing The 2018 Cougar Baseball Team
Friday: It's Opening Day! Houston vs. Holy Cross