Until kickoff of the OU game, membership to our site is $59.99 – the best price you'll see on a GoCoogs membership all season. Subscribe today!




Perhaps no head coach in the country rolls with his QB personnel more than Dana Holgorsen. Since he was OC at UH in 2008-09, he has grown as a play-caller and has learned to adjust his offense to make it work for the experience and arm talent of his starting QB.

When Dana left Houston after the 2009 season, he lost a ton of offensive weapons that were perfectly matched to his Air Raid. In his year at Oklahoma State, he began experimenting with the diamond pistol, a system that utilizes three backs in red-zone and short-yardage situations. Always deprecating, Dana explains why he began tinkering with the diamond:
my hero dana holgorsen pic.twitter.com/pODixgDpoK

— Derrik Klassen (@QBKlass) March 8, 2018
Here's the diamond being used against UT. Watch the other RBs in the formation take out would-be tacklers and the ball carrier glides into the end zone.
Dana has always understood the importance of his skill players blocking for each other. I would expect a marked improvement in that area this season.
OkSt was Dana's first chance to work with a true pro-style QB like Brandon Weeden. As with Case Keenum, Dana helped mold Weeden into an NFL quarterback. The Cowboys went 11-2 that season and scored 16 ppg more than in 2009. It was the highest-scoring team in school history until 2017.
In his first couple seasons as head coach at WVU, Holgorsen switched up the offense again. He inherited Geno Smith and receivers like Tavon Austin and Stedman Bailey. Smith's skill set was better suited for a quick-release offense and getting the ball to the perimeter and WVU incorporated more pre-snap movement as well as the jet sweep.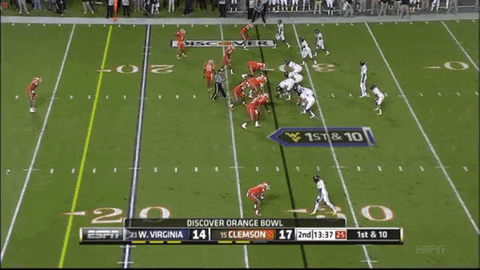 His 2011 team won the Big East and the Orange Bowl, scoring 12.5 ppg more than the season before he arrived. The 2012 team scored even more points but gave up 51 ppg in their first seven Big 12 games.
In 2013, the passing game slipped significantly under QB Clint Trickett. Charles Sims, the UH grad transfer, ran for nearly 1100 yards but without a solid passer, WVU slipped to 4-8. The 2013 team scored 5 ppg less than any other Dana-led offense.
After that 4-8 season, Holgorsen incorporated more of the motion offense that he used under Geno Smith. Trickett went from 52% completion rate in 2013 to 67%. Defenses were forced to account for WR Kevin White (109 catches, 1447 yards) which gave even more opportunities to other players. We will see that same situation with Marquez Stevenson this year.
In 2015-2016, Dana had a power-read option quarterback in Skyler Howard running the show. The WVU offense went through another transformation – more power running game resulting in a balanced attack. Holgorsen ran the ball 58% of the time in 2016 – unheard of in the Air Raid – but it paid off with a 10-2 regular season.
In his last two seasons in Morgantown, Dana was reunited with OC Jake Spavital. Spav worked for Holgorsen in Houston, Stillwater, and Morgantown before replacing Kliff Kingsbury as Texas A&M's OC and then moving on to Cal to work with Jared Goff.
These two seasons with drop-back QB Will Grier were a different animal than anything Dana had encountered: Grier's talents suited a deeper passing game (as well as his penchant for never looking to the check-down man near the line of scrimmage). Dana adjusted to the QB: 25% of Grier's throws at WVU were in the air 20+ yards. Like this switch route that ends in an easy TD vs. Texas:
The WVU offense evolved in other ways during Grier's time. Dana expanded his route tree giving defenders another layer to think about before they react. Look at the different routes being run here: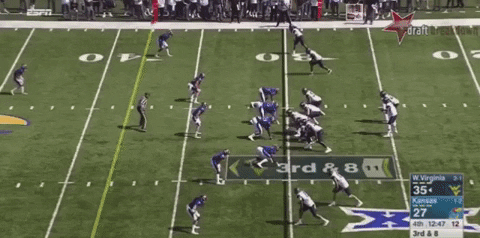 In 2019, Dana will have more skill at all of the wide receiver positions than he's had since at least 2011. And he'll have a QB that combined RPO speed and with the patience of a drop-back guy. King might be the best QB in Dana's long career at baiting defenders with his eyes.
King is also a master at allowing receivers to work their reads. Watch as he waits for Brooker to work to the next level of the route.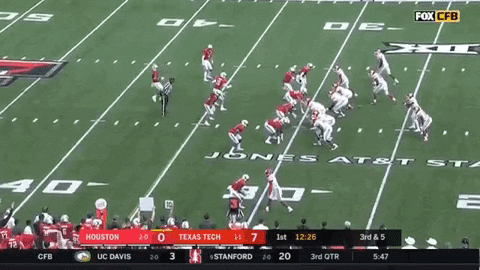 That was a 22-yard gain on a two-yard route thanks to King's savvy.
Dana brings a wealth of experience to UH in running about a half dozen different offenses over the last 9 years. With the front-line talent at QB and WR, you can expect this offense to often behave like an Air Raid – utilizing throws at the line of scrimmage and 3-5 yards beyond it. King's accuracy on throws of 20+, combined with the receivers getting better coaching and blocking more, should result in more home runs connecting, too.
FLASH SALE: Save 33% On A GoCoogs Membership
Until kickoff of the OU game, membership to our site is $59.99 – the best price you'll see on a GoCoogs membership all season.
Our Glory Days features are some of our most popular content. Help us continue to highlight our proud history by subscribing to GoCoogs today.


More GoCoogs Subscription Options