John O'Korn bounced a swing pass to wide receiver Greg Ward on the left side. The boos start to rein down, mostly aimed at Tony Levine, a first at the new TDECU Stadium. But surely some of the venom is directed at the poor play of O'Korn.

On the next snap, O'Korn's pass goes across the middle, another of his no-touch bullet throws. It hits Deontay Greenberry, bounces up and is picked off. O'Korn is now 12/26 for just 98 yards and 2 INTs. Little does he know that this pick is his last meaningful playing time at Houston.

On the next series, with 8:25 to go in the 3rd quarter, Greg Ward takes over as Houston's QB. It's a job he would keep for the next 34 games.

The date: October 2nd, 2014. The day that Tony Levine got booed into putting Greg Ward on the field at QB. And here at GoCoogs.com, we celebrate it as Greg Ward Day!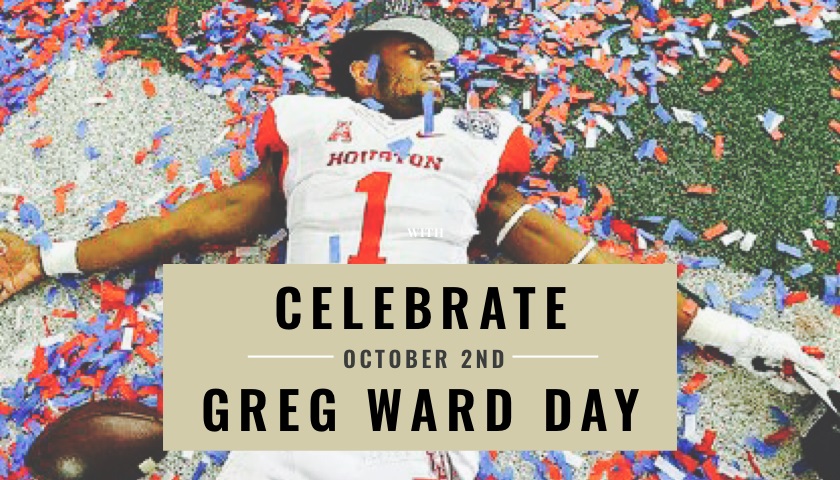 GW3: By The Numbers
In the 10 games before Ward's first start, UH scored 2 TDs or less 5 times (3 of those games were 1 TD or less).

Once Greg Ward became the starter, UH scored 3 TDs or more in 32 of 34 games. The embarrassment that was the Levine/Bush/O'Korn offense was transformed by the play of #1.

As the starter, Greg Ward went 28-6, won 2 bowls, a league title, went 6-0 vs P5, 9-1 OOC, and 19-5 in the league. All this after Levine went 15-15 in his 30 games before starting Ward. UH played only 2 P5 teams under Levine – both blowout losses.

Greg Freaking Ward Jr in 34 starts
Passing: 711/1066 (67%), 8,144 yards, 52 TD/25 INT.
Rushing: 468 rushes, 1990 yards, 35 TD.

Greg finished his career 2-0 vs top 5 teams, 3-0 vs Top 10 teams. 6-0 vs top 25 teams. 13-4 in ABC/ESPN/ESPN2 games. 14-0 at TDECU. and 15-0 in Houston. He was 10-2 in November. 1-0 in conference title games. The American title. A Peach Bowl title. An Armed Forces Bowl title. The largest fourth quarter comeback in bowl history.

As the starter, Greg Ward went 28-6, won 2 bowls and a league title.

One day soon, Ward will go into the University of Houston's Hall of Honor. Deservedly so.

Greg Ward Day is perfect in it's timing this year: Greg Ward went 3-0 in his career vs. Tulsa, this week's opponent. UH scored 38 in each of his 3 games. In the 2015 game, he ran for 182 yards and three touchdowns, breaking the school record for rushing yards by a quarterback.

And to think that until he was guilted into the move, Tony Levine mostly used Greg Ward as a punt returner and 2nd-string WR. But Ward managed to overcome it all: 3 head coaches, multiple injuries, and a 12-5 record away from home.

Thanks, Greg.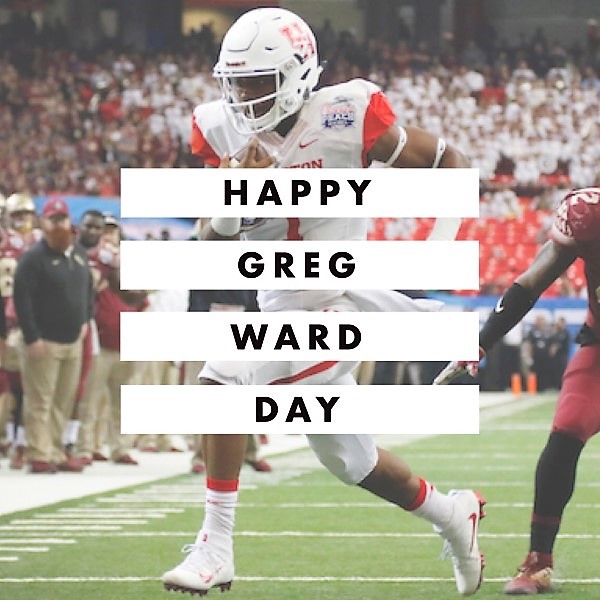 Greg Ward Day Gallery
#GoCoogs
Do you appreciate stories like this? Subscribe to our posts!
Get all GoCoogs.com stories in your inbox.