Track & Field: Leroy Burrell Does It Again
This has been a ho-hum week for the Coogs with 3 basketball losses for our 20-win teams but on Saturday some good news finally came: UH men's track and field won their 4th-straight conference title and 19th in school history.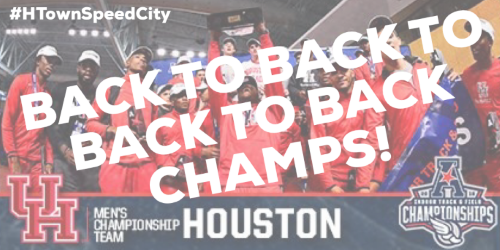 If my math is correct, this is Leroy Burrell's 34th conference title. Wouldn't you love seeing a photo with him wearing/holding all 34 rings? And the '92 gold medal around his neck, of course.
Individual champions for UH: Elijah Hall (60 and 200M), Kahmari Montgomery (400M), Amere Lattin (60M hurdles) and Nathaniel Mechler (heptathlon). The 4×400 relay team won as well. After 6 events were completed Friday, UH was in 7th place. But once racing finals started Saturday, #HTownSpeedCity roared back.
Final AAC Championships Standings 
1) Houston 139 points
2) Memphis 107
3) Wichita State 103
Montgomery and Mechler both shattered school and league records while Lattin won his 2nd-straight conference title and the school's 5th in a row in the event. Elijah Hall's 60M win also gave UH a 5th-straight conference title in an event. The 4×400-meter team broke the American Championship meet record as well.
The women's team finished fifth. On Friday, Samiyah Samuels won the long jump. Brianne Bethel won the 60M and was 2nd in the 200M. Freshman Naomi Taylor finished 2nd in the 60M hurdles.  We own 60M. We own speed.
The 10th-ranked men's track and field team has a chance to do some damage at the NCAA Indoor Championships in 2 weeks in College Station – virtually a home meet. To see final results, click here.
We own 60M. We own speed. 
ICYMI From GoCoogs.com
1. Trey Cumbie Is The Best In The Nation – Get Him Some Runs! In 2 starts so far, UH lefty Trey Cumbie has gone 12 innings, given up 2 runs, 4 hits and struck out 22. Yet he doesn't have a win. We need to get him some runs!

2. Is The Ed4Heisman Campaign Beginning? – Two prominent national writers published Ed Oliver Heisman stories this week. Is UH pushing this whisper campaign? If so, I say "great job!" Here's some of my terrible Photoshop skills – but I do like the way Ed is staring a hole through the trophy.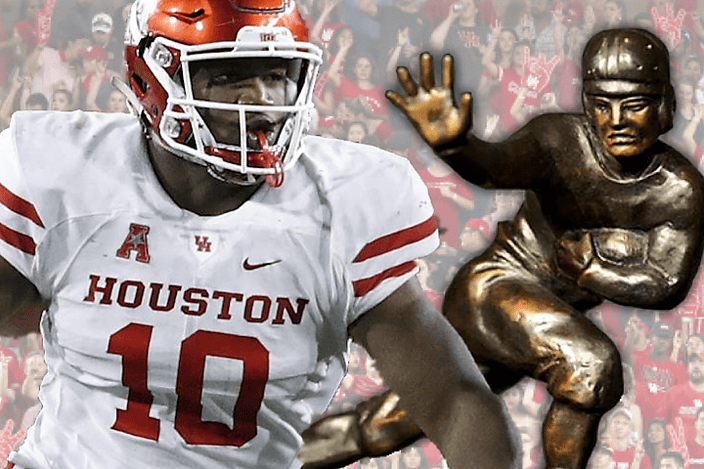 3. Men's basketball had a cup of coffee in the national rankings this week but that's sure to end Monday. The Coogs lost to Memphis after having a 13-point lead in the first half. MBB goes for their 14th home win of the season at 2 p.m. today.

4. Here's some pics of Guy V:
I never got to see his teams but Guy V in-game coaching pics always make me laugh. #VintageUH #GoCoogs pic.twitter.com/pLz9xQf3d9

— GoCoogs.com (@gocoogs1) February 22, 2018


5. I really enjoyed researching and writing this story and about John R. Bender, the UH football coach that gave the school the Cougar nickname. Bender led a fascinating life that was cut short at 46. He gave all of Saint Louis University, Kansas State, and UH their nicknames.

6. There's an argument to be made for Flo Hyman but I say Chandi Jones is UH's greatest female athlete. I know plenty will disagree but Chandi's accomplishments at UH are strong.

7. Here's a gallery of Shasta photos from the 1960's through the late 80s. Another gallery is coming this week.

8. And a few more #VintageUH pics including how campus looked in 1939. All those trees!
A few more #VintageUH pictures:

1. The UH campus in 1939. Parking seemed easier.

2. A late 70's car reppin' the Coogs.

3. Coach Yeoman (and lovely wife AJ!) watching @UHCougarMGolf at the 1968 AAII. #GoCoogs pic.twitter.com/O9cKXT2k7b

— GoCoogs.com (@gocoogs1) February 21, 2018


9. The week ahead: Men's and women's golf play tournaments in town early this week. WBB wraps up the regular season at Cincinnati then heads to the conference tournament at the Mohegan Sun. Baseball finishes with Fullerton today before TSU Tuesday and a very challenging Minute Maid field next weekend. MBB plays the final 3 games of the regular season (2 at home & @ SMU) and attempts to go 15-0 at home. Tennis plays at Abilene Christian and UNT next week and softball hosts the Houston Red & White Showcase.

Thanks for reading. I appreciate it. If you ever have a comment or suggestion, feel free to contact me.
-Ryan


#GoCoogs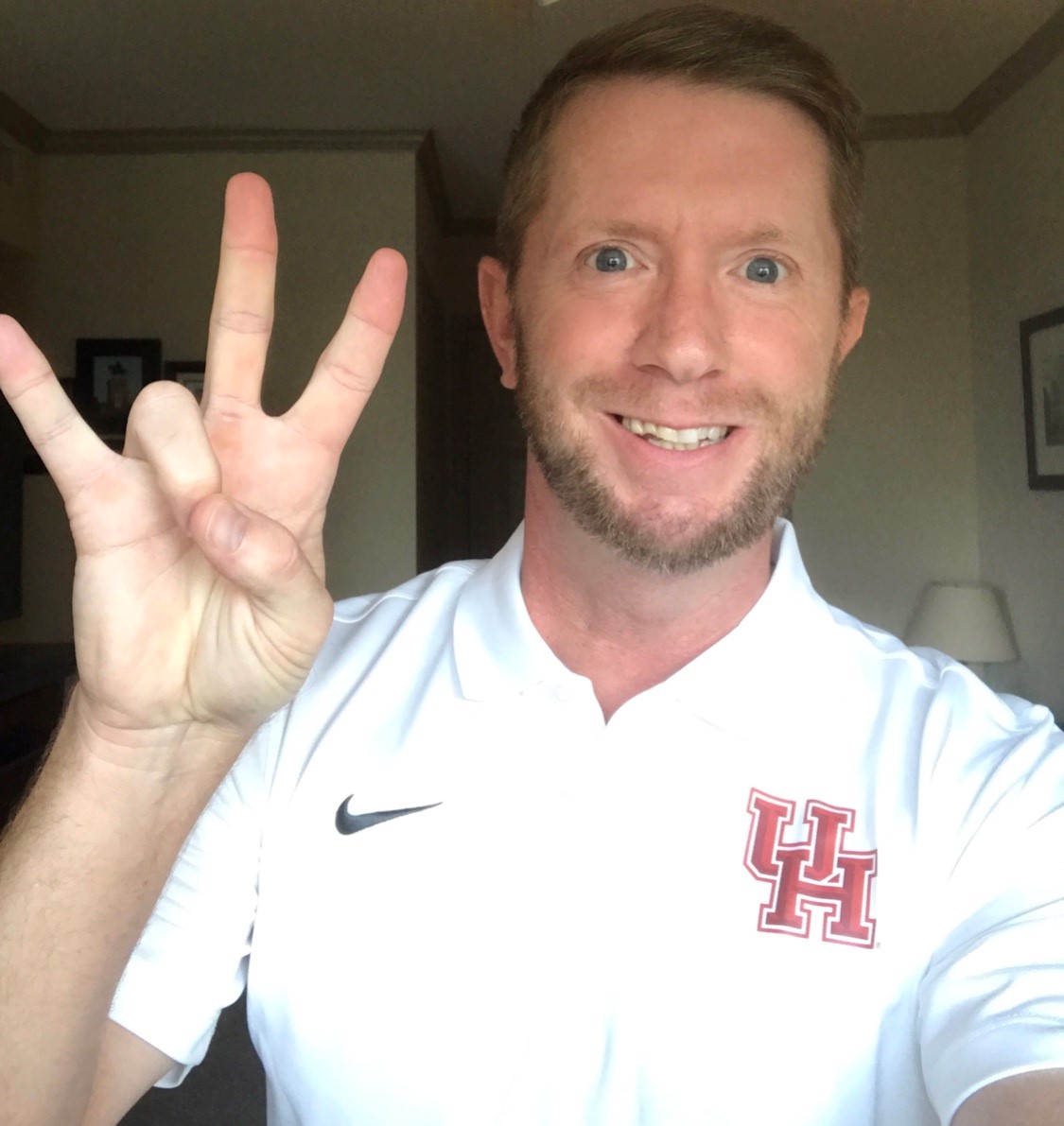 During the day, I'm a real estate agent and entrepreneur but my passion is publishing GoCoogs.com. We strive to provide the best content, analysis, and advanced stats to all UH fans.
My real estate website: SMHRyan.com
Share This Content With Other Coogs!